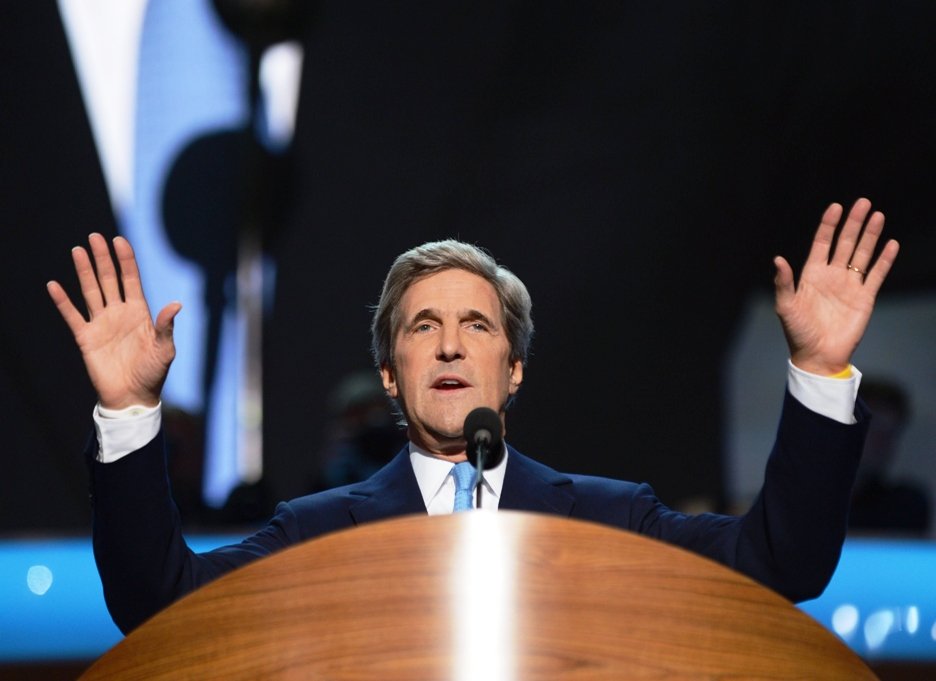 ---
ISLAMABAD: Advisor to Prime Minister on Foreign Affairs Sartaj Aziz informed the house Tuesday that drone attack issue would be raised with US Secretary of State John Kerry during his visit to Pakistan next month. 

"US Secretary of State John Kerry is likely to visit Pakistan next month and the government will raise the issue with him and make him realise that drone strikes are counter-productive in war against terrorism," he said while responding to a calling attention notice raised by the Pakistan Tehreek-i-Insaf (PTI) MNA Dr Shireen Mehrunnisa Mazari.

He said that Pakistan's policy is clear that drone attacks are violation of its sovereignty and integrity.

Aziz said Pakistan has already conveyed serious concerns to the United States over drone strikes and will continue to raise the issue at all the forums.

Pakistan has adopted a clear policy on drone strikes, which at one side are counter-productive in countering the menace of terrorism and on the other contravention of country's sovereignty.

The advisor said that Prime Minister Nawaz Sharif in his first speech to the House had categorically demanded an end to drone strikes following which a protest was lodged with the US on June 7.

Giving details of the number of drone strikes carried out on Pakistani territory, Aziz said that 150 drone attacks were carried out in 2010, 63 in 2011 and 55 in 2012.

About 13 attacks have been carried out so far this year, he said adding one drone attack was carried out after the present government assumed the charge.

However, he was of the view that the issue should be resolved with peaceful negotiations.

"Instead of pursuing the policy of threat, we need to resolve this issue through talks" he added.

Sartaj Aziz noted that these drone strikes are also creating hindrance in improving relations with the US.

He said that Pakistan will raise this issue at high level with the US and hoped that it would succeed in bringing an end to these strikes.

Aziz said Pakistan is also holding negotiation with like-minded countries over the issue of drone attacks.

He said recent speech of US President Obama on drone attack is also encouraging adding the statements of US officials after taking over by the government by the PML-N were positive.

The advisor said the protests by Human Rights organisations and Pakistan on drone attack have been producing positive results.

The Advisor said that if the drone attacks continued, guideline would also be sought from the representatives of people to devise future strategy.

Kerry's visit delayed

US Secretary of State John Kerry has been forced to delay a visit to Pakistan because of the worsening crisis in Syria, Pakistani officials said Tuesday.

The Pakistani foreign ministry said last week that Kerry would arrive in the last week of June for talks with the new government on issues including the fight against militants in the country's northwest and NATO's exit from Afghanistan.

But no announcement of the trip was made by Washington and on Tuesday a senior Pakistani official told AFP it had been put back.

"He was due here in the last week of June. Now his visit is likely in the first half of July," the official said on condition of anonymity.

"The Syria crisis shot up suddenly, so they had to reschedule the Pakistan visit. But they have conveyed to us that they want to come to Pakistan in early dates of July."

US State Department spokeswoman Jen Psaki on Monday said Kerry was "very much looking forward to travelling to Pakistan" but still gave no indication of when such a visit might actually take place.

Kerry would be the most senior US official to visit the country since Nawaz Sharif was sworn in as Pakistan's new prime minister after May elections.

Pakistan-US relations are on the mend after virtually collapsing in a series of crises in 2011 including the discovery by US commandos of Osama bin Laden hiding in Abbottabad.

For seven months Pakistan also cut off NATO overland supply lines into Afghanistan after botched US air strikes killed 24 Pakistani soldiers near the Afghan border.

Pakistani cooperation will be vital as the US withdraws the bulk of its forces from Afghanistan by the end of next year after more than a decade of war, and Sharif has promised his government's support.

But the vexed issue of US drone strikes targeting suspected Taliban and Al-Qaeda militants in Pakistan's tribal zones continues to dog relations, with Islamabad condemning them as a violation of sovereignty.

Kerry is also expected to visit New Delhi when he comes to South Asia, Indian officials said last week.
COMMENTS (18)
Comments are moderated and generally will be posted if they are on-topic and not abusive.
For more information, please see our Comments FAQ