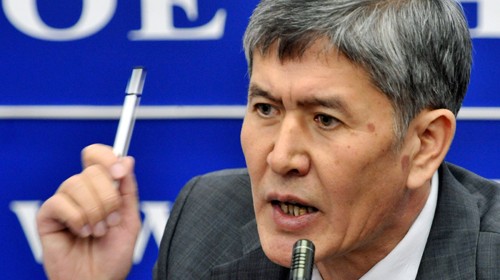 ---
KYRGYZSTAN: Kyrgyzstan's ousted president Kurmanbek Bakiyev made his first public appearance on Monday since being toppled in a popular uprising, slamming his opponents and refusing to step down.

Bakiyev, who fled the capital Bishkek last week amid protests against his rule that left at least 81 people dead, was addressing a crowd of thousands of supporters in his home village of Teyit in southern Kyrgyzstan.

He was greeted near his family home by throngs of supporters cheering his name, an AFP correspondent reported.

Speaking from the steps of the local mayor's office, Bakiyev insisted that he remains the legitimate president of the former Soviet state and accused the interim government of being "natural gangsters".

"I had some reasons for hiding. As you know, power was seized by force. It began first in (the northwestern city of) Talas and all the blame was put on my shoulders," he told the cheering crowd.

"I am the president, and no one has the right or the authority to make me leave my position. This is not a revolution, this is a seizure of power."

Bakiyev also repeated his call for the United Nations to send a contingent of peacekeepers to held prevent further bloodshed in the impoverished Central Asian state.

It was the first public appearance by the ousted leader since fleeing the capital. The interim government formed by ex-foreign minister Roza Otunbayeva has demanded he resign and accused him of attempting to foment civil war.

Almazbek Atambayev, first deputy head of the interim government, told reporters in the capital Bishkek that the government was preparing to arrest the ousted leader, but was holding off to avoid civilian casualties.

Atambayev accused Bakiyev of surrounding himself with local residents in an attempt to discourage government forces from seizing him.

"The interim government of Kyrgyzstan is preparing a special operation to detain Kurmanbek Bakiyev. We have not yet begun it because he don't want to harm the local population," Atambayev said.

While Atambayev said that the entire Jalalabad region where Bakiyev is located wants to see him removed from power, many supporters gave emotional speeches in his defence. Gulnara Talayeva, a local resident and member of a pro-Bakiyev youth league, blasted the provisional government in general, and Otunbayeva in particular.

"A 60-year-old woman shouldn't be sitting in the seat of power. She is an old woman and has no right to do that," she told the crowd, to cheers of support.

Following the meeting, an AFP reporter witnessed Bakiyev leaving the village in a black sport utility vehicle. Meanwhile, Atambayev returned from Moscow this weekend where he said he had held high level meetings with the Russian government, which pledged last week to help the new government with extra humanitarian assistance.

Kyrgyzstan's new leaders on Friday froze the national banking system, saying Bakiyev had pillaged state coffers, leaving only only 986 million Kyrgyz soms (16 million euros, 22 million dollars) to run the country.

"I met with the leadership of the Russian Federation. I said that during peacetime, Russia allocated 150 million dollars to the Kyrgyz Republic," Atambayev said.

"Now, when we have an emergency situation, (this) aid should be more than 150 million dollars," he added.
COMMENTS
Comments are moderated and generally will be posted if they are on-topic and not abusive.
For more information, please see our Comments FAQ