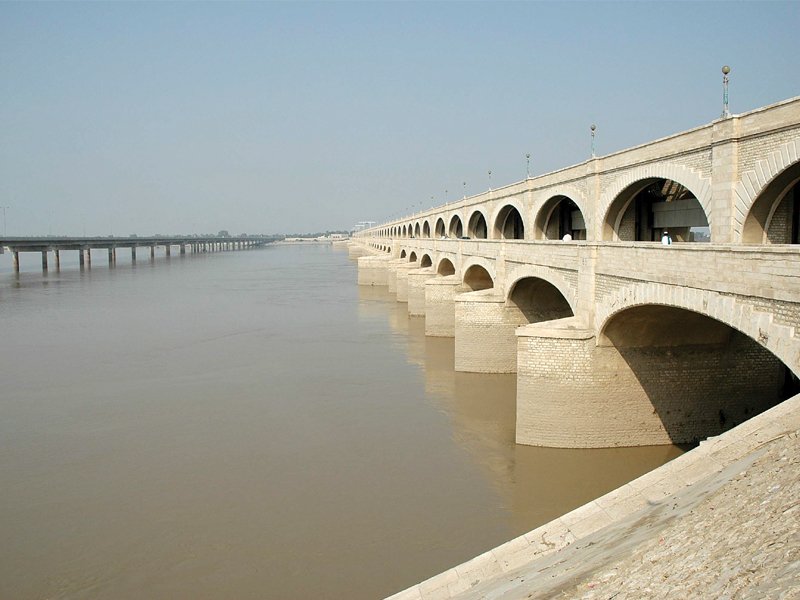 ---
SUKKUR: It has been six months since a survey report on the modernisation of Sukkur Barrage was completed but the irrigation authorities have yet to decide where to get the model study done.

The money has so far been spent on consultative meeting with surveyors, when it could have been used to conduct a model study - a report that will determine whether or not the plan is feasible - which is available in Nandipur (Punjab), Hyderabad and the United Kingdom.

Following a decision by the irrigation department to rehabilitate the decades-old structure, three firms, Atkin, National Development Consultants and Allied Construction Engineering, were awarded the survey work in 2011. The companies finished their task six months back and only two days back held a meeting with the Sukkur Barrage chief engineer Ahmed Junaid Memon to brief him on the survey results.




Talking to The Express Tribune, former Sindh irrigation secretary and National Development Consultants Sindh in-charge Idrees Rajput confirmed that the survey has been completed but the model study needs to be completed before actual work could begin. He said that both Sukkur Barrage and Guddu Barrage are in need of an overhaul and the project will be financed by World Bank's Water Sector Improvement Project (WISP).

"We are waiting for the green signal from the authorities," said former Guddu Barrage chief engineer Noor Muhammad Baloch, who is currently serving as chief engineer at National Development Consultants. "The project will cost Rs32 billion and the World Bank will foot 80-90 per cent of the bill."

The Sukkur Barrage was commissioned in 1932 with 66 spans (gates) and discharge capacity of 1.5 million cusecs. The barrage has seven off taking canals - three on the right bank and four on the left. Over time, a huge amount of silt accumulated in its right pocket, due to which the discharge capacity decreased.

Following this technical problem, a model study was carried out in 1942 at the Pune Research Institute, India, which recommended permanently closing 10 gates of the barrage to save the system from a total collapse. Consequently, the authorities closed down gates 6 to 14 and gate number 23, thus slashing the discharge capacity to 900,000 cusecs from 1.5 million cusecs.

According to a source in the irrigation department, reopening the closed gates alone will not solve the problem and slight remodelling will be needed to give a new life to the structure. He also said that walls dividing the right and the left bank will be raised and silt will be cleared to solve the perennial problem of low pond level in the months of May, June and July. But the irrigation department and the consulting firms need to take a decision on the model study instead of holding pointless meetings, he added.

Published in The Express Tribune, June 13th, 2013.