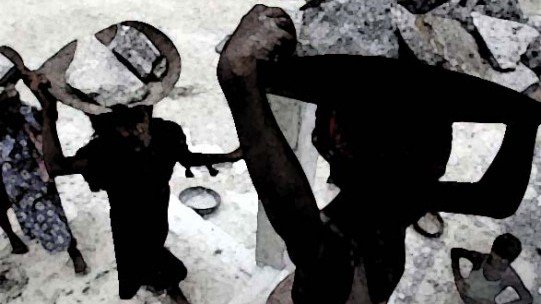 ---
LAHORE:



Aqsa Batool, a 14-year old, worked at a house in Samanabad. At the end of every month, her parents would collect her salary. In April this year, Batool died. The post mortem reports said she had been beaten up but her employers said that she died from an electric shock.




Society for the Protection of Child Rights got an FIR registered. However, there has been no progress on the case so far. It is rumoured that the employers and the girl's parents have agreed on 'compensation'.

Since January, nine cases have been reported of severe torture on children employed as domestic workers. Five of them have died. According to SPARC, at least 40 cases of torture on children working as domestic workers have been reported in the province since 2010. A policy has yet to be framed to address the issue.




In a letter to the Chief Minister's office, the Labour and Human Resource Department expressed helplessness in this regard. The letter, titled Deaths of Children Working as Domestic Servants, pointed out that the labour laws did not cover domestic workers. The letter stated that the Punjab Prohibition of Employment of Children Act 2013 prohibited the employment of children and adolescents in hazardous occupations. Domestic work, the letter pointed out, was not defined as a hazardous occupation. Therefore, new legislation was required to deal with the issue. "Would it not undermine a household's sanctity [privacy] if it was subjected to inspection by law enforcing machinery?" the letter questioned.

SPARC suggested that a notification could be issued to include the employment of children in households as a hazardous occupation."Since 2011, as many as 13 children have died from violence inflicted on them by their employers. In 2006, India banned child domestic labour by placing it on the list of banned occupations provided in the Prohibition of Child Labour Act," wrote Rashid Aziz, National Manager Child Labour Programme. "No one should be allowed to take away the life of a child because he/she is a domestic servant, simply on the pretext of upholding the sanctity of a household," he wrote. The letter was written on May 9 and has not been replied, Aziz said.

"The International Day against Child Labour will be observed on Wednesday. The theme for this year is No to Child Labour in Domestic Labour. Now is the time to act," said Sajjad Cheema, regional head of SPARC, "Unfortunately, Pakistan is the only country in the world where the ratio of domestic child labour is increasing."

The Child Rights Movement, a coalition of 22 NGOs working for children's rights, demanded that the employment of children in households be banned. At a press conference in connection with the International Day Against Child Labour on Tuesday, CRM focal person Syed Miqdad Naqvi said the excuses given to justify child labour, such as poverty, unemployment, war on terror, floods, etc are lame. "The real causes are lack of will, commitment and sincerity... to protect children from exploitation," he said.

Iftikhar Mubarik said the CRM feared that hundreds of children were being tortured, by their employers, but very few cases were being reported.

CRM member Rashad Aziz urged the government to ban child work under 16 years of age and domestic labour below 18 years of age. He said people above 18 years of age who are employed as domestic help should be respected, cared and protected through a formal agreement with their employers. Besides increasing the minimum wage to Rs20,000, the CRM also demanded the ratification of the ILO's Convention 189 on domestic workers.

Published in The Express Tribune, June 12th, 2013.
COMMENTS
Comments are moderated and generally will be posted if they are on-topic and not abusive.
For more information, please see our Comments FAQ