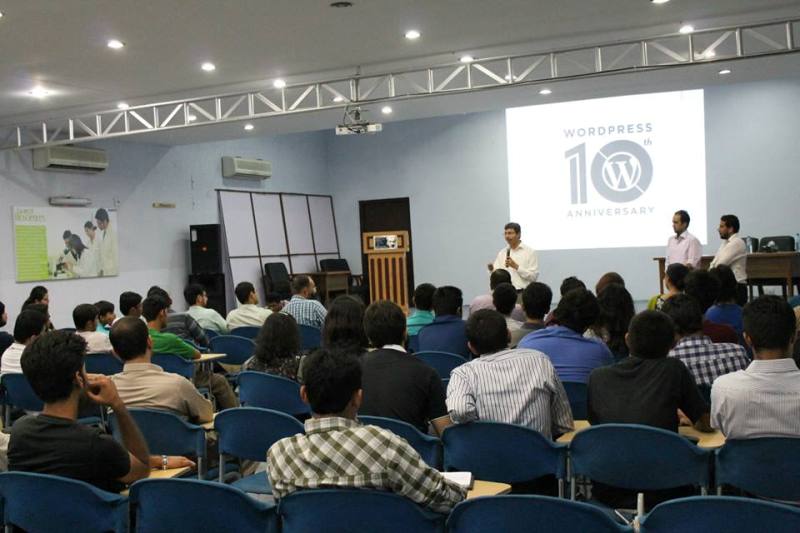 ---
KARACHI: The students of Shaheed Zulfikar Ali Bhutto Institute of Science and Technology (Szabist) learned how easy it is to make news websites at an event to mark the 10th anniversary of WordPress.

The speakers, Shakeeb Ahmed, Amin Lalani and Sawant Ali Shah, highlight the benefits of Wordpress and the reasons why it continues to be popular. Lalani taught the audience how to design an occasion-specific website and said that one could easily make a news website as it was not rocket science.

WordPress was hassle free and can be conveniently used to create data-heavy websites, said Shah. He told the gathering that WordPress is no longer exclusively used for blogging or creating websites only and is now also used as a content management system based on PHP and MySQL.

Shah also said that it has a great market scope given the mushroom growth of the freelance market, which means there are always jobs available for theme sellers, designers and programmers. "There are numerous opportunities and you just have to take your pick based on what you like." Shah likened WordPress to Apple and said that both have been transformed by the public response and ease of use.

Ahmed, meanwhile, explained how themes work in WordPress and laid emphasis on SpyroPress which facilitates the use of SpyroFramework and SpyroBuilder. While the former was built for flexibility and rapid development, the latter provides control over the website and its content.

The speakers also provided the other side of the picture and said that along with many pros, it also has some cons. Shah informed the audience that the websites like Facebook cannot be made on WordPress. Lalani agreed with Shah and said that every project has its own requirements. "Serious buyers don't use WordPress and instead develop their own platforms. It is basically a content management system."

Sameen Reza, a Szabist faculty member, said that the idea behind the event is to make the students running their blogs as freelancers well-verse in programming and developing.
COMMENTS
Comments are moderated and generally will be posted if they are on-topic and not abusive.
For more information, please see our Comments FAQ