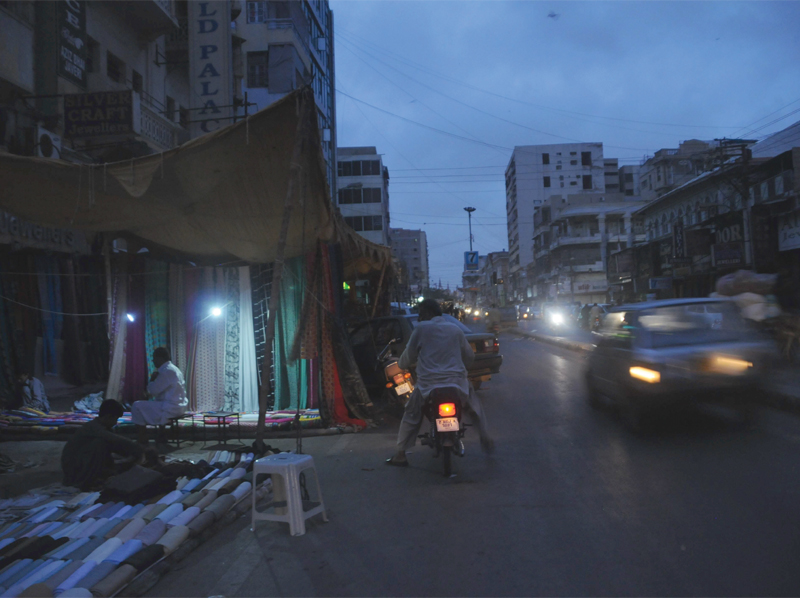 ---
KARACHI: Karachi - once referred to by some as 'the city of lights' - has lately been swathed in a blanket of darkness because of power cuts.

As the Karachi Electric Supply Company (KESC) struggles to meet demand, it has pointed fingers at the Sui Southern Gas Company, claiming that a "massive reduction" in gas supply has led to the surge in load-shedding in the city.

The power utility's spokesperson, Ahmed Faraz, claimed that the natural gas supply to the organisation has been cut down to around 100 million cubic feet per day (mmcfd). Last May, it had been receiving around 220 mmcfd, which is still less than what it needs to run all its power plants - around 276 mmcfd.

Faraz went on to explain that this shortfall has altered the way the power utility decides which neighbourhoods to cut power from and for how long. The formula the utility uses is a fairly simple one: localities have been divided into four categories based on the estimated amount of power theft that occurs in them. It cuts power for up to nine hours in localities where power theft is high, around seven hours where it is categorised as 'medium' and four hours where it is low. In areas where power thefts are deemed insignificant by the utility, there are no power outages.

But due to the recent shortage of gas, Faraz claimed this formula has been set aside and power is being cut to even those areas where electricity theft is low. "This is being done not to cause further inconvenience to localities which are already facing up to nine hours of load-shedding."

Inayatullah Ismail, an SSGC spokesperson, however, said that the power utility was at fault for the trouble Karachi has faced as the organisation has defaulted by Rs48 billion and is failing to give any definite schedule for payback.

Performance woes

But there are some areas of Karachi where power outages have reportedly been lasting for more than nine hours a day. Some residents still feel they are being "collectively punished" because some people choose to steal electricity.

Sadia Mahmood, a resident of Scheme 33, a locality which previously faced nine to 10 hours of load-shedding during the day, said the power cuts can now last for up to 14 hours. She felt the power utility should announce how much load-shedding is being conducted in different localities on the grounds of power theft. "Making it public knowledge will definitely urge residents to help identify culprits for their collective good," she said. "Our area is not a slum where the menace of power theft cannot be eradicated. If the KESC wills, all of Scheme 33 can easily be swept for kundas [illegal connections]."

Khursheed Zehra, a resident of North Nazimabad's Block P, claimed that resident of Umer Farooq colony were involved in power thefts because of which the neighbouring Hussain DeSilva town were meted with collective punishment for about 12 hours. "Why don't KESC officials clear all those illegal connections in that specific area?"

Several residential areas located adjacent to industrial areas also felt 'punished' as they claim power outages there last for up to 14 hours. Nasreen Akhtar, a resident of Federal B Area Block 21, said, "Earlier load-shedding was restricted to eight hours. For the last two months, however, there is no specific time-period for power outages and at times we bear 14 hours without electricity."

Published in The Express Tribune, May 27th, 2013.
COMMENTS (6)
Comments are moderated and generally will be posted if they are on-topic and not abusive.
For more information, please see our Comments FAQ