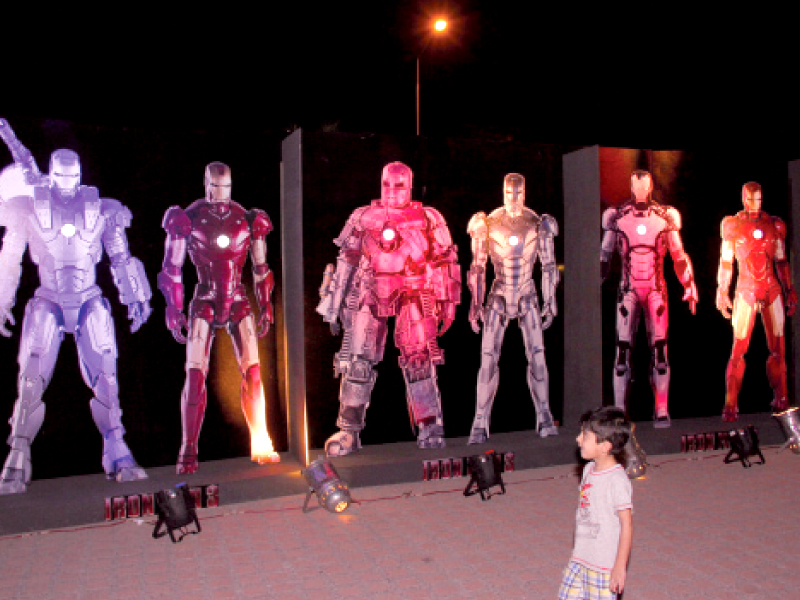 ---
RAWALPINDI:



One of Hollywood's big summer blockbusters finally reached Islamabad on Friday, with Robert Downey Jr reminding everyone at the movie's premiere that he, is Iron Man.




The movie reached Pakistan later than expected, largely due to a delay caused by the pre-election dissolution of the government — and with it the censor board — but that only encouraged cinephiles
to turn out in large numbers for the third installment of the comic book-based franchise.

The red-carpeted entrance to The Arena was rolled out as guests were welcomed by a replica Iron Man amid a layout inspired by Tony Stark, bringing the audience their first pre-screening feel of the Iron Man universe.

The event was attended by a number of Islamabad's famous faces, including actress Laila Zuberi, singer Haroon, filmmaker Hamza Ali Abbasi, Gohar Rasheed from the movie Seedlings, and Waar director Bilal Lashari, along with socialites and members of the diplomatic community.

As the guests made their way into the cinema for the main event, a young student named Amad stood in line, wearing a shirt emblazoned with the Iron Man mask. Unsurprisingly, he said he was a big fan of the first two movies of the trilogy, along with The Avengers, and was hoping for a memorable experience with the third.




As for the movie, the likes of Gwyneth Paltrow, Guy Pearce, Don Cheadle, and the amazing Sir Ben Kingsley were part of an action-packed spectacular, replete with a plot twist that would blindside even the most devoted Iron Man fan. And of course, there was the unflattering reference to Pakistan, which improved somewhat as further developments in the movie unfolded.

While many of the characters differ greatly from their comic book source material, there are homages aplenty for the die-hard fan. Moreover, the movie maintains its close ties to the Marvel Cinema universe, with an important subplot carrying over from The Avengers and a hilarious post-credits scene that keeps with the movie's dark humour. Barring a couple of ringing cell phones, the cinematic experience was near perfect.

Rezz Aly Shah, a guest at the event, said he had enjoyed the movie and was impressed by the wardrobes and effects, while Sadia said she loved the set-up and the movie because "Robert Downey oozes coolness".

Published in The Express Tribune, May 26th, 2013.
COMMENTS
Comments are moderated and generally will be posted if they are on-topic and not abusive.
For more information, please see our Comments FAQ