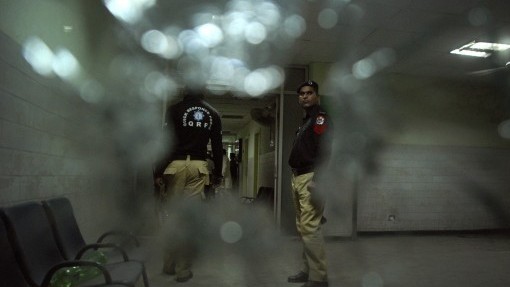 ---
KARACHI: Karachi's notorious neighbourhood, Lyari, remained at a standstill as gunshots echoed through the vicinity for the second consecutive day. Parts of Lyari, including Hungorabad, Shah Abdul Latif Bhittai Road, Ali Mohammad Mohalla, Zikri Mohalla and Al-Falah Road remained tense on Sunday, as violence ensued between two groups.

According to sources, armed men from the Kutchi Rabita Committee (KRC) took positions in Hungorabad while rival group members took up positions on Shah Abdul Latif Bhittai Road, Ali Mohammad Mohalla, Zikri Mohalla and Al-Falah Road.

When questioned about their absence, police officials blamed it on the shortage of personnel and armoured personnel carriers (APCs). "The situation in Lyari is now under control," Kalri SHO Haji Sanaullah told The Express Tribune, adding that all the blocked roads were now open and firing had stopped. He said that KRC member, Saleh Mohammad, was killed and four others wounded in the violence.




There was confusion, however, regarding the death toll as the KRC claimed that ten of their members, including a 12-year-old girl, were killed over the last two days, while the police believe that only five people have been killed.

KRC leader, Daud Kutchi, while talking to The Express Tribune, blamed the outlawed Peoples Amn Committee (PAC) for the killings. "The PAC is taking revenge from us for not supporting their candidates in the elections," he said. "Delay in action by the law enforcement agencies has resulted in the deaths of 10 of our people so far."

The PAC leadership was unavailable for comment. Sources in the PAC, however, said that they did not have any link with the ongoing violence, adding that a political party was supporting the KRC to create a law and order situation in Lyari.

Bodies recovered

Bullet-riddled bodies of two young men were found in gunny bags from bushes near the Northern Bypass. Manghopir SHO Aslam Joya said that the victims had been shot multiple times, adding that the motive behind the incident could only be ascertained after their identification. The bodies of the deceased were shifted to Edhi morgue, Sohrab Goth for identification.

Published in The Express Tribune, May 20th, 2013.