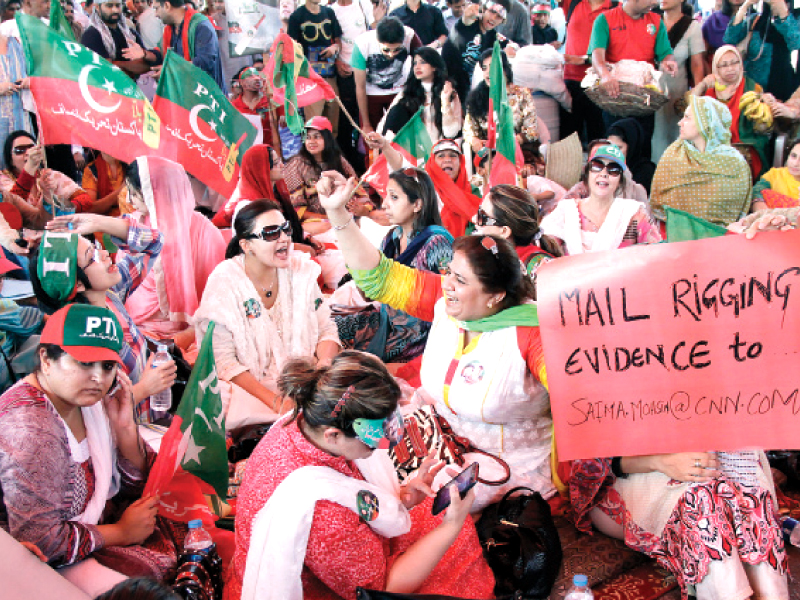 ---
LAHORE:



Pakistan Tehreek-i-Insaf candidate from NA-125, Hamid Khan, requested hundreds of protesters at Ghazi Chowk, Defence Housing Authority, on Tuesday to make their sit-in a two-hour long activity.




Khan said the protest, against the alleged rigging of polls in NA-125, was inconveniencing the general public by blocking busy roads. He thanked them for their support and suggested that they could protest from 6pm to 8pm.

However, most of the protesters refused to move, saying that they had not started this on his request and would not call it off on his request.  "I have been protesting here since Sunday...in solidarity with Khan sahib," said Sardaraan Mai, on Monday, while collecting bottles she hoped to sell in exchange for flour for her grandchildren. "God willing he will come to power," said the mother of a DHA guard.

The sit-in began on Sunday evening following a flood of calls for protest against alleged rigging in NA-125 on social media networks.  Scores of DHA residents gathered at Ghazi Chowk...some even stayed there all night. Initially there were some clashes between PTI and Pakistan Muslim League- Nawaz supporters on Sunday but police managed to separate them.

All roads leading to the chowk have been blocked. A large tent has been erected for protesters at Ghazi Chowk. On Monday, droves of protesters had gathered at the chowk around 3pm. The crowd swelled gradually and the protest went on late into the night.


PHOTO: SHAFIQ MALIK

Several volunteers stood guard holding bamboo sticks. Several women sat in the tent. "We are very vigilant considering we were harassed on Sunday," said a volunteer who did not want to be named. "We have to protect our supporters, particularly the women who have come here," he said.

Gucci and Karma

Many protesters carried placards reading 'We trusted you ECP!', 'ECP let us down' and 'Where is my vote?'. They also chanted slogans against PML-N candidate Khawaja Saad Rafique and the election commission. Clad in designer kurtas and scarves with Imran Khan's picture emblazoned on them, a large number of women protested in the DHA streets.   The Imran Khan kurta costs Rs4,000. "Just because I'm wearing a label does not make me any less of a concerned citizen," said Naila Khan, one of the protesters. She said she was appalled at the 'outrageous rigging' at her polling station but that did not mean that she shouldn't dress the way she did.

Like Khan, several women were also carrying designer bags, shoes and sun glasses.

Witnesses' claims

Carrying a placard with the words 'Repent Saad Rafique', Ammar Ahmed, a resident of DHA Block-B, told The Express Tribune that he had been a polling agent at the International Grammar School on the DHA Main Boulevard.

Zafar Usmani, another DHA resident, said that he had taken his daughters to cast their votes at the polling station in Defence Public School for Girls in Sector-S. "I saw Rafique enter the station," he said, "I argued with him. I have pictures to prove it." Usmani said this was only the second time he had cast a vote.

Brawls

The sit-in continued into the evening. There was a minor scuffle onboard a truck where PTI volunteers were chanting slogans. A few PML-N supporters had allegedly climbed onto the truck and begun arguing with the PTI supporters. PTI volunteers covered the truck with placards to stop the media from broadcasting the scene. The protesters were asked to remain seated. Eventually the brawl was diffused.

The PTI supporters ensured a continuous supply of water and refreshments for the crowd. As many as 700 protesters had joined the demonstration by night fall when a power outage immersed the sit-in in complete darkness.

PTI leaders

Several PTI candidates visited. The candidate from NA-119, Mohammad Madni, said, "How can I accept defeat when I know the elections were rigged." Madni who ran against Hamza Shahbaz, alleged that the polling staff had been bribed. Hamid Khan, who had contested against Rafique, said he would take his complaint to the election commission.

Ahsan Rasheed, PTI candidate from PP-156, said the PTI had sufficient evidence to persuade the election commission. He said protest demonstrations would continue across the country till the election commission announced a re-count or repolling. He said police had been used for rigging. "We will stop at nothing short of a re-election," Rasheed said.

Fouzia Kasuri was seen chanting slogans. She too demanded re-election in all constituencies where rigging had been reported. "The protest will not be called off till the election commission gives in to our demands," she said.

Omar Sarfaraz Cheema arrived around 8pm. "We will not let them [PML-N] win through rigging," he said.

Several protesters said they would not leave the chowk till the ECP announced re-election.

DHA Public Relations Director Zeerik Ahmad said dealing with the protest was not DHA administration's job. He said that he hoped that the PTI would provide the protesters a 'better and peaceful' alternative to blocking the roads to be heard. Almost 100 DHA security guards were deployed to ensure security.

Published in The Express Tribune, May 15th, 2013.