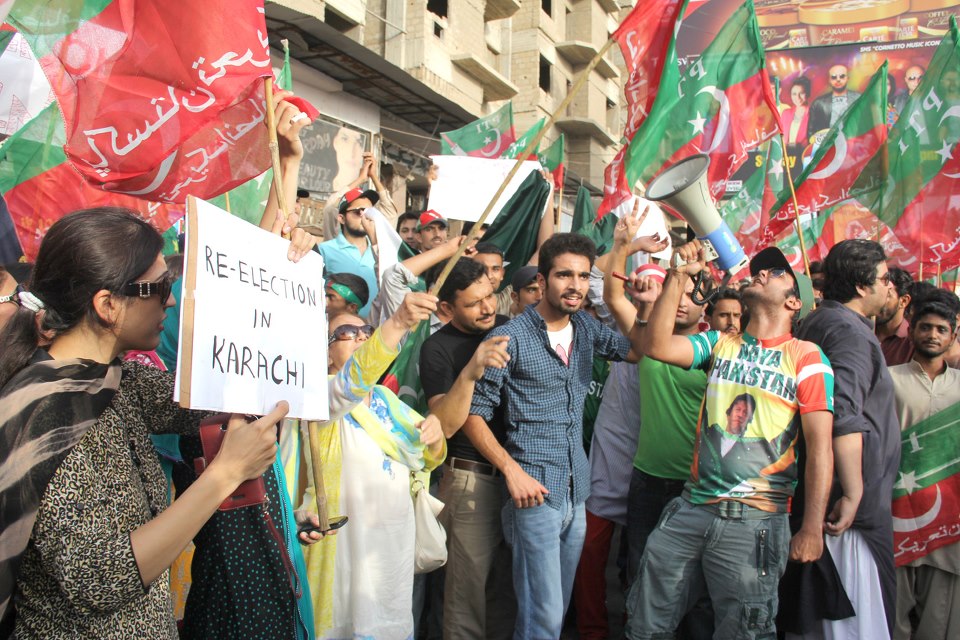 ---
KARACHI:



Pakistan Tehreek-e-Insaf (PTI) supporters took to the streets in Lahore, Karachi, Islamabad and Mardan, pressing the poll body to hold re-election or recount of votes in constituencies "rigged by PML-N, MQM and ANP".




In Karachi, PTI activists defied the section 144 imposed by the government, and gathered in their hundreds to block the Shahrah-e-Faisal in presence of heavily armed police and rangers. On the second day of protests, PTI's demands remained the same. "We want re-elections in Karachi," said Arif Alvi, the PTI candidate for NA-250. Clad in a white shalwar kameez, Alvi sat with his supporters in the middle of the road and declared that the constitution gives them the right to protest peacefully.

About the MQM he said, "We don't want any confrontation with the MQM. But we want free and fair elections and the MQM should agree to it."

Meanwhile, Lahore's Ghazi Chowk was also packed with PTI protestors. For Fatima, an avid PTI supporter, the results of NA-125 in Lahore came as a shock as she was quite sure that over 60 per cent of the people at her polling station had voted for PTI's Hamid Khan. When the results revealed that PML-N's Khawaja Saad Rafique had won, she joined throngs of protestors at Ghazi Chowk, decrying the outcome.

"We reject the result and want the election commission to intervene," she exclaimed.

NA-125 in Lahore boasts of 43,000 votes from religious minorities and has a high literacy rate. "Khawaja Saad Rafique of PML-N, who does not have a good reputation in the constituency, was declared as the winner," said Yasir Ali Hashmi, a spirited PTI supporter.

But Ghuffran Butt, a PML N supporter said: "Lahore is the fort of PML- N." PTI supporters should realise that NA-125 consisted not only of urban areas, but also of rural areas, where the population density is high and the majority supports PML N, he added.

In the 2008 elections, PML-N's Khawaja Saad Rafique had won this seat after defeating PML-Q's Hamayun Akhtar Khan.

Moreover, up to 500 PTI supporters took to the streets in Islamabad to express solidarity with the protesters in Karachi and Lahore. At D-Chowk, Islamabad, a placard read, "Shame on the ECP," while another said "Rigging elections is worse than dictatorships."

A group of 50 supporters also staged a sit-in.

Some protesters claimed that the polls in Islamabad and Rawalpindi were also rigged. Abbiah, a first-time voter, said she saw PML-N manipulating voters at the Golra polling station. Similarly, Zahida, a polling agent in Rawalpindi's NA-56, alleged that PML-N workers had tried to take over her polling station.

Protestors urged the ECP to hold re-elections in the affected constituencies and involve the Army to ensure no political candidates sabotage the electoral process.

Dr Shahzad Waseem, adviser to PTI chairman Imran Khan, also showed up at the protest. Waseem said Pakistan's citizens were well-informed and they will not digest the rigging.

"People feel that their votes were insulted, so they have stepped out to protest spontaneously without any call from the party," he said.

However, in Mardan, there was a hue and cry against the ANP. PTI supporters protested against former chief minister Khyber-Pakhtunkhwa Amir Haider Khan Hoti's win from NA-9, alleging that the polls were rigged.

Protesters were led by Nasir Khan Advocate, the losing candidate of PTI from NA-9, and chanted slogans against ANP leadership.

Published in The Express Tribune, May 14th, 2013.