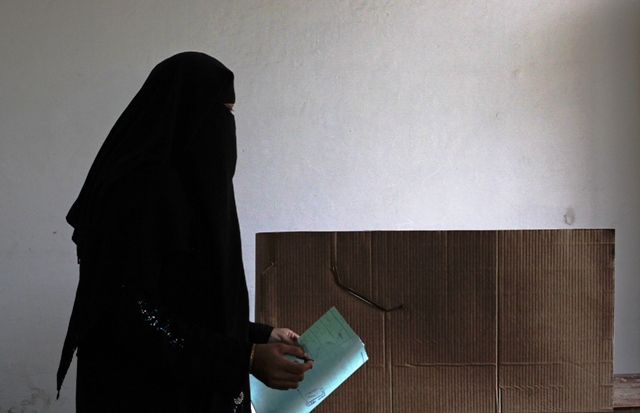 ---
MIRANSHAH: Saima Ali had a message for women as the country went to the polls: ignore the Taliban threats and vote.

The 30-year-old cast her ballot along with her mother-in-law in the middle-class Railway Road area of Lahore in the country's second largest city and political heart.

More than 120 people were killed in bombings and shootings in the month leading up to Saturday's historic election and in some areas militants ordered women to stay at home on polling day.

But Ali, a housewife dressed brightly in a vivid yellow scarf, urged them to pay no heed.

"Women are the power of this country, women are the main pillar of this society," Ali told AFP.

"I ask all women to come out and vote to bring change for our country - it's very important."

Her mother-in-law Shaheen Ilyas agreed.

"We have great hopes for this election, our area is developing and we hope it will continue. That's why we have brought the whole family to vote," she said.

Rana Mohammad Iqbal, 75, a retired shopkeeper, said he had no fear of attacks, despite Taliban threats to send suicide bombers to polling stations.

"Voting is our duty and I am confident everyone will come out to vote to change Pakistan," he said.

For housewife Ali's four young children the trip to the polling station in the leafy grounds of a government technology college was to make sure mum and grandma voted for the lion - the election symbol of frontrunner Nawaz Sharif.

Sharif's nephew, Hamza Shahbaz Sharif, is standing from the constituency and the ex-PM's glamorous daughter Maryam was mobbed by media as she arrived amid heavy security to cast her ballot, as supporters gathered to chant "PM Nawaz Sharif!"

Polling booths were set up in the college's auto repair workshops, where students learn to fix cars and motorbikes - an apt setting as Sharif built Pakistan's only motorway during his last term as PM in the 1990s and has pledged to jump-start the country's economy.

Nawaz himself is expected to cast his vote later.

Imran Khan's Pakistan Tehreek-e-Insaaf (PTI) party has been campaigning hard in Lahore and on the streets the party's flags far outnumber those of Sharif's PML-N.

But for local trader Saeed Anwar, billionaire tycoon Sharif is the one candidate who understands what is needed to get Pakistan's stalled economy motoring again.

"Nawaz Sharif is the only person who can change this country - there is nobody in Pakistan like him," the 46-year-old told AFP.

"Because Nawaz is a businessman he knows about business, that's why he is the most suitable candidate."

The outgoing government led by the Pakistan People's Party (PPP) was widely criticised for failing the economy and doing little to address huge energy shortages that cripple industry and make ordinary people's lives a misery.

But Sajida Mir, a PPP voter, said people should give the party credit for constitutional reforms that have strengthened democracy and for the Benazir Income Support Programme that has helped poor women.

The 2008 election, held under the shadow of military rule, was marred by allegations of rigging and fraud, but a Pakistani poll observer in Lahore on Saturday told AFP the vote seemed to be going well.