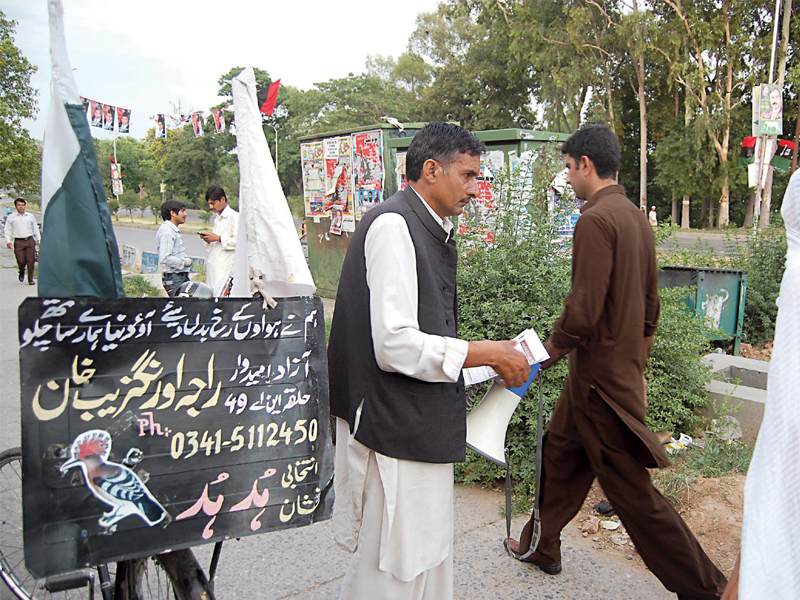 ---
ISLAMABAD: For a labourer to contest elections is an expensive undertaking but independent candidate Raja Aurangzeb Khan believes he can single-handedly change the country's fate.

With only Rs1,200 to his name, Khan is campaigning in the capital's rural constituency against rich and powerful candidates from major political parties. "I'm using a megaphone and my cycle for my campaign," said Khan, 51, who is trying to convince residents of NA-49 to for vote him.

Khan, who belongs to Azad Jammu and Kashmir, has been living in a hut in the federal capital's outskirts since 35 years. "My total bank balance was Rs1,200 when I submitted my nomination papers for NA-49," he said.




Social injustice forced me to take part in the elections which I would like to eliminate if elected, stated Khan. Since kicking off his campaign on April 19, he has covered most of his constituency on his cycle, addressing people on a loudspeaker. "There is a need to eliminate dynastic and feudalistic politics which is what I'm struggling for. I believe an ordinary man can better understand the problems faced by the people," he added.  Khan claimed that other candidates from NA-49 were unaware of the problems being faced by the common man. "Those who spend millions of rupees in their campaigns can never truly represent the people whereas my campaign expenses amount to Rs35," said Khan while convincing people to vote him through his megaphone.

After every few hundred metres, he would stop to address the audience and request them to vote for him. Dozens of people would gather to listen to his speech and appreciate him. "I know it's difficult for me to win the election but this is the first step for changing the system."




I will continue my struggle till the last moment, he added. He said he has scored a small victory by taking on billionaire candidates.

According to the declarations submitted to the Election Commission, PPP candidate Mustafa Khokhar is the richest candidate with a net worth of Rs161.98 million and two properties in the UK valued at Rs8.16 million. PML-N candidate Dr Tariq Fazal Chaudhry's net financial wealth is Rs115.43 million while his annual income from 450 kanals of agricultural land is Rs1 million, while JI candidate Zubair Farooq Khan has assets worth Rs11.5 million and owns 15 kanals in E-11 valued at Rs75 million.

Khan has opened an election office in his mother in law's house in Farash Town, while a few of his friends have donated pamphlets for his campagin. Asked about his top priority if he elected, Khan said there were multiple problems in the city but affordable transport is the biggest issue. "To provide the best transport system would be my top priority."

Published in The Express Tribune, May 9th, 2013.