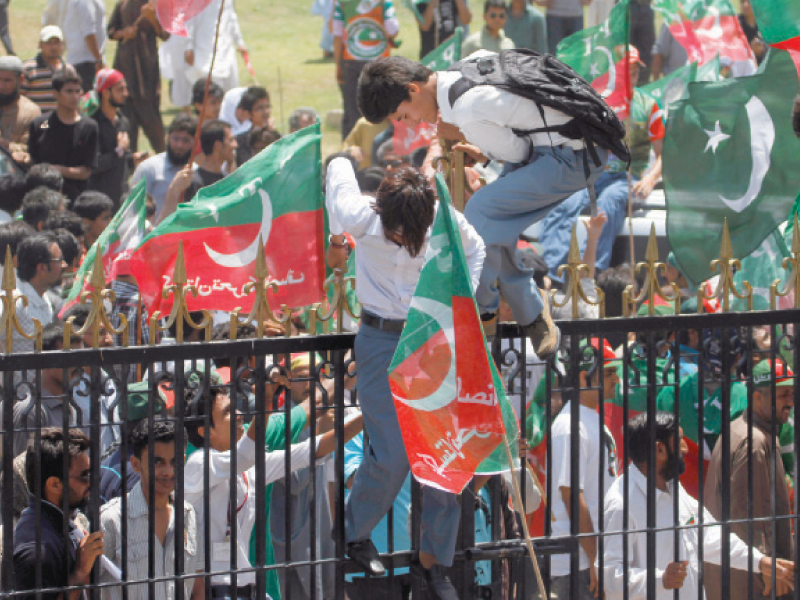 ---
KARACHI:



The massive rallies in Punjab raised the hopes of Imran Khan's supporters in Karachi a bit too high. When the Pakistan Tehreek-e-Insaf (PTI) chairperson left Quaid-e-Azam's mausoleum in haste on Tuesday without delivering a fiery speech, thousands of them were left disappointed.




"We had cut our college classes just to see Imran. But there were so many people around him that we couldn't catch a glimpse," lamented Arshia Yaqoob. Another supporter, Ismail, who had turned up with his friends said that they had been waiting in the heat for four hours. "Why didn't he deliver a speech? We have been seeing his rallies on TV and were hoping to listen to him live."

The mismanagement on the part of the mausoleum's security team coupled with the chaos created by PTI's supporters made things difficult. For more than half an hour, Imran's silver land cruiser kept circling the mausoleum, waiting for security clearance.

As some of the supporters grew impatient, they headed towards the entrance and shouted, "Open the gates!" But security officials did not pay heed. Even PTI's candidates, including Samar Ali Khan, had to climb the iron gates to get in.

Finally at noon, the gates were opened and supporters thronged Quaid's mazar. When Imran finally walked inside, the crowd closed in on him from all sides. But unfortunately for them, his visit was a short one: he offered fateha and then headed towards his vehicle. Before he raced off to the airport, Imran had a short message for his supporters. "On the evening of May 11, Karachi will again become the city of lights. PTI will win."

The foot soldiers

While Imran left his supporters wishing for a speech, his party's candidates in Karachi are making sure the masses know they are out on the streets. One such PTI leader is Arif Alvi, the party's candidate for NA-250. He is determined to meet as many people as he can before polling day and convince them to vote for him.

Dressed in the hues of the national flag, Alvi had turned up at the mausoleum with wife and grandson. He walked around, smiling and shaking hands. Later in the afternoon, Alvi walked along the dusty, garbage-laden lanes of Railway Colony.  "I am the candidate for NA-250. Please vote for me," he said.

Published in The Express Tribune, May 7th, 2013.