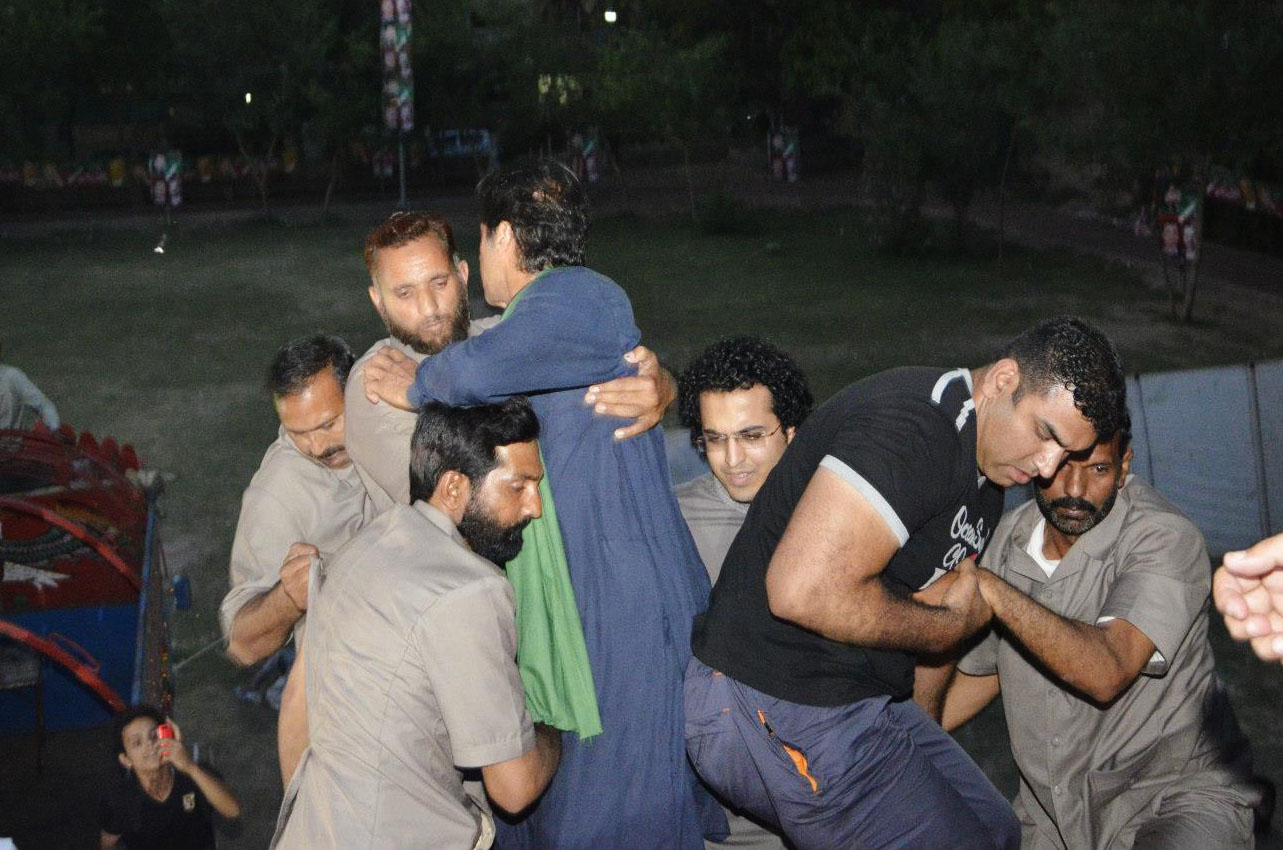 ---
LAHORE: Pakistan Tehreek-e-Insaf (PTI) chairman Imran Khan suffered injuries as he fell off a lifter while being raised onto a stage, Express News reported on Tuesday. The election rally was being held in Gulberg, near Ghalib market.

A few hours after the fall, Imran reportedly announced that planned rallies will be held as per schedule, but the party later announced that all events scheduled for Tuesday and Wednesday were cancelled.

According to the head of Shaukat Khanum Dr Faisal, the PTI chairman had suffered from head injury but was in his senses and recognising everyone though a report will be issued after detailed tests, PTI's official twitter account confirmed.


Dr. Faisal head of #ShaukatKhanum informed that #ImranKhan had Head Injury.
He is in his Senses and recognizing everyone. #pti

— PTI (@PTIofficial) May 7, 2013


CT scans revealed that he had suffered minor fractures in the skull.


CT scan results show only a minor fracture. IK will be fine inshallah though he is in a lot of pain

— Asad Umar (@Asad_Umar) May 7, 2013


However, Imran was not immediately rushed to the hospital he had helped built. He was first taken to Jinnah Hospital to receive first aid. Doctors there comforted Imran's supporters and well-wishers, asking them to stay calm as the PTI chairman was out of danger.

"His [Imran] head suffered two injuries and there was one back injury," Doctor Shafiq told Express News adding that the PTI chairman had also received stitches. "He was fully conscious and could move his legs and feet which is a good sign. There was no neurological damage."

"It is an external injury only but Magnetic Resonance Imaging (MRI) and further x-rays will confirm this."

Doctors of Shaukat Khanum Memorial Cancer Hospital (SKMCH) after medically examining Imran, adviced him to take two weeks of bed rest.

Briefing the mdedia, Dr Faisal Sultan of SKMCH said that the condition of the PTI chief was quite stable but he will remain in the hospital overnight.

Message from hospital

Later in a video message from his hospital bed, Imran urged his supporters to get out on May 11 and vote for his party.

With a stitched wound above his left eye and brace around his neck, Imran said he had done what he could.  "Now I want you to take responsibility. If you want to change your desitny, I want you to take responsibility."

In the two minute long video, he said that he has not done any favours on anyone and it was his duty to do what he did. But that if people wanted to change the way the country works, they will have to go out and vote on May 11.

"Do not look at the candidate but look at the vision and the party ticket."

14 foot fall

Imran along with three security guards was being raised onto a 20 foot tall stage via lifter.

Standing on a wooden platform, Imran was gripped by his guards. Midway another of his security guards tried to climb aboard the platform. This made the platform unbalanced and caused the five to tip over, somersault through the air and land on the roof of the lifter before falling on to the ground.

"He [Imran] first fell on to the roof of the lifter, and then fell to the ground," the driver of the vehicle said.

As a result of the fall, the PTI Chairman received a head injury. He was seen bleeding, in a semi-conscious state as he was rushed away from the site of the accident.

https://vimeo.com/65647621

The three security personnel were also injured as the group fell off the lifter.

Imran was initially transported to Jinnah hospital and was later shifted to Shaukat Khanum hospital, heavily strapped and with his head covered in bandages and his neck in a head brace.

"Imran Khan is alright. He has been taken to the hospital for first aid. He will be back to address the rally very soon after getting initial treatment," PTI spokesperson Chaudhry Rizwan told AFP via telephone shortly after the incident.

Shortly after, a number of PTI members confirmed that Imran was conscious and out of danger including singer Abrarul Haq PTI Chairman and his ex-wife Jemima Khan.

Imran was supposed to address nine rallies in total today, from Ghalib stadium he was headed to Raiwind for a rally and then back again to Lahore.

The Pakistan Muslim League-Nawaz (PML-N) chief in his rally in Rawalpindi called for prayers for the swift recovery of Imran Khan and cancelled its events planned for Wednesday. The Muttahida  Qaumi Movement (MQM) cancelled its election events scheduled for Tuesday.

The President, Chief Election Commissioner, PML-N chief Nawaz Sharif, Tahirul Qadri, Shahbaz Sharif and the Muttahida Qaumi Movement (MQM) have all expressed their sympathy over Imran's injury and prayed for his swift recovery.