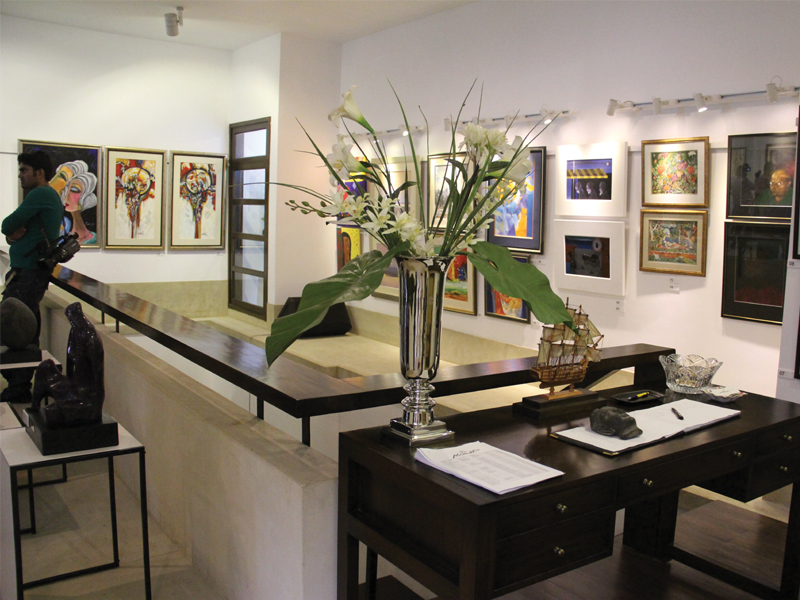 ---
KARACHI: Momart Art Gallery is back on the city's art scene with an exhibition of the works of a 12-year-old girl along with a group of 67 professional artists.

At the relaunch on Monday evening, 12-year-old Cerenne Naqsh was excited to sell both her paintings. "I don't like my work. I really don't understand why people want to buy it," she admitted. Several other artists and art lovers turned up at the gallery's new venue near Bilawal House.

The chief guest of the event, Ishrat Hussain, who requested to be introduced only as an art lover, explained that art galleries were important because they symbolised peace. "Pakistan's middle-class is very conscious of the aesthetic value of art," he added. "We used to have very few commercial art galleries. Today, Karachi and Lahore are full of them. "

An artist, Shazia, explained that she had been exhibiting at Momart for many years now. "I had my first solo exhibition at Momart in the late 1990s," she said, adding that the gallery had been very supportive. "My work is a sculptural series that revolves around abstract figurative works," she added. "Pottery is always considered utilitarian but I have taken it to its ceramic, sculptural realm. " She felt that her work spoke about the history of pottery in the subcontinent. "I have tried to link the present and the past."

A senior artist, Chitra Pritam, whose had put up a number of paintings of Karachi beach, explained that patriotism was the main inspiration behind his work. "I wanted to paint something that belongs to my country," he said. "A number of great artists have painted the seaside. I wanted to capture how I felt about the sea next to my country." Pritam stressed that artist should not forget their national identity.  "When we paint, the beauty of our country should shine through our work."




Mona Naqsh, who has been painting since the past 25 years, explained how her work had evolved over time. "In the first few years, getting the curves and the shapes right is important," she said.  "After a while, you start looking beyond the literal presentation. The work takes on a bigger meaning."

Shammi Ahmed has been running Momart Art Gallery for more than 15 years now. The gallery management decided to relocate the gallery to the new site due to the parking problems at the previous location. "I think we have had a great turnout and I am really grateful to the art community for responding to Momart's call."

Artist Amin Gulgee said that he was very excited to see that a new art space had opened up. "The more galleries there are, the better it is for young artists. Rock on Momart."

Published in The Express Tribune, May 1st, 2013.