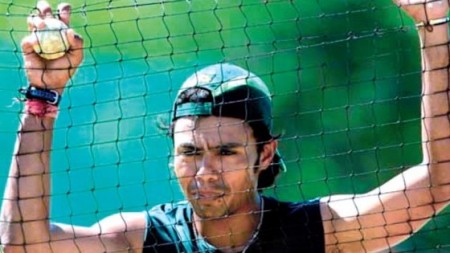 ---
KARACHI: Once again, a Pakistani cricketer has come under the limelight for match-fixing allegations, this time, as part of the English county team, Essex.

With the start of this year's domestic county season, the Essex police announced that they were investigating two of the club's players for 'match irregularities' and – despite them or the club refusing to reveal the players' identities – Danish Kaneria's name has been dragged into media reports as one of the two suspects.

The British newspaper, The Sun, claimed that Kaneria, currently Pakistan's leading wicket-taking spinner, along with another player, will be investigated following incidents in one-day matches last summer.

The report suggested that the players did not actively throw matches but manipulated passages of play by bowling poorly or sending down no-balls or wides. The other player - a lower-profile member of the staff who is not featuring in the opening championship match against Hampshire - will almost certainly be released if found guilty.

The long arm of the law "Following allegations received about two Essex County Cricket players involved in match irregularities we have initiated an investigation and are working closely with Essex County Cricket Club and the English Cricket Board," Essex Police said in a 'not protectively marked' press release.

"As this is an ongoing Police investigation there will be no further comment while the investigation is underway." Essex have known about the allegations for a month but were shocked when they became public. County coach Paul Grayson said: "I am not allowed to comment."

Kaneria rubbishes report "I am surprised when learnt this news which is untrue," Kaneria told The Express Tribune. "This is just news without substance. We all know I was the outstanding bowler throughout the season (2009) and I even played a vital role in Essex's Division 2 campaign for promotion to Division 1.How, then could anyone accuse me (for match-fixing)," he added.

"I have no idea about all this and don't understand what is going on but in due course, I will consider legal proceedings against the publisher who named me," maintained Kaneria.

Kaneria was expected to be available for Essex for the County Championship, which kicked off on Friday but the leg-spinner opted to delay his arrival by three weeks for featuring in the Pakistan National Pentangular One Day Cup, which starts from April 17 to 27, with Kaneria representing Sindh Dolphins.

The 29-year-old made his debut for Pakistan against England in 2000 at the age of 19, becoming only the second Hindu to play Test cricket for his country after his own cousin Anil Dalpat. He made an immediate impact after joining Essex in 2004, taking 63 wickets in just 11 County Championship matches.

In 2005 he helped Essex to their first National league title for 20 years. He then returned to Essex in 2007, when he claimed 74 wickets in the championship and further 33 in one-day competitions before sustaining a finger injury.