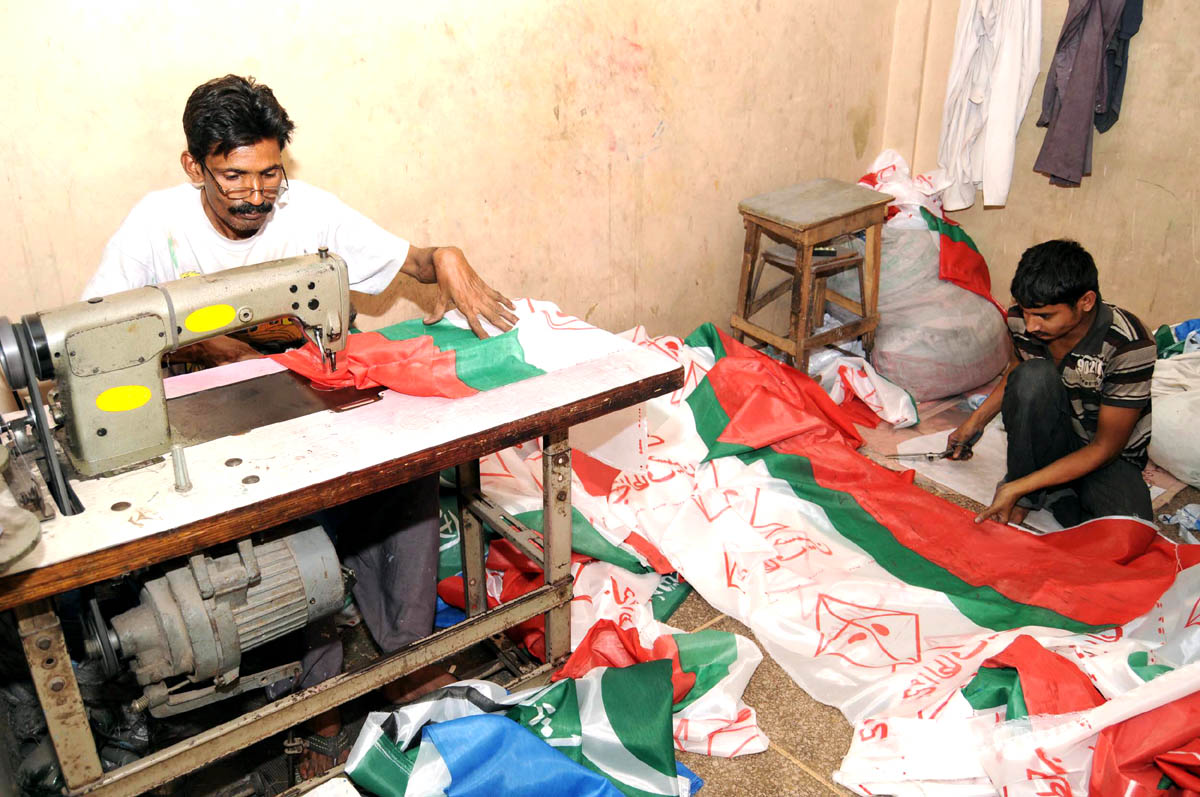 ---
KARACHI:



The power cuts in the city are taking their toll on factory owners who have just started receiving a bulk of orders for election campaigns.




Some factories in Korangi Industrial Area have received orders to make up to 100,000 flag pieces every day, yet their workers are forced to sit idle for as many as eight to 10 hours due to unanticipated power outages.

Even before the formal kick-off of election campaigns across the country on April 19, orders for political parties' flags started pouring in at VIP Flags - a popular enterprise in Pakistan that is manufacturing flags and banners since 1985.

"We expect to receive the orders for an estimated eight to 10 million flags of various sizes from political parties across the country," said Shaikh Nisar Ahmed Parchamwala, the owner of VIP Flags. "In Karachi alone, party flag orders have crossed the figure of one million, costing around Rs20 million."

The factory is equipped with a number of advanced rotary screen-printing machines, which are designed for roll-to-roll printing on fabric. But these machines remained closed for almost one-third of a day for the last two weeks.

"The industrial area that received uninterrupted power supply has now been facing power outages for up to 10 hours by the Karachi Electric Supply Company (KESC) in these crucial days," said Parchamwala. "When power supply resumes, the industry has to deal with the low pressure of natural gas supplied by the Sui Southern Gas Company (SSGC)."

He said that Karachi was serving as a hub for the production of marketing material for election campaigns across the country. "Apart from Sindh, we have been receiving orders from the Punjab and even far-flung constituencies in Khyber-Pakhtunkhwa and the Federally Administered Tribal Areas," said Parchamwala.




The political party that placed highest number of orders with the factory was the Pakistan Peoples Party, followed by Muttahida Qaumi Movement, Pakistan Muslim League - Functional, Jamaat-e-Islami and Pakistan Tehreek-e-Insaf. According to Parchamwala, the publicity material for the Pakistan Muslim League - Nawaz was mostly received by manufacturers in Lahore and other areas of the Punjab.

Initially when the orders were small, the factory managed with power generator. But it cannot do so anymore as the rotary printing machines required heavy loads. "We are unable to complete the orders on time and do not know how we would be dealing with the production of publicity material in the remaining 19 days before the general elections," Parchamwala admitted worriedly.

KESC blames unplanned digging

KESC spokesperson Syed Ahmed Faraz blamed the unplanned and careless digging by the local government employees on unannounced power outages. He said that such haphazard digging messed up over 20 power supply feeders and high tension linking cables in Landhi and Korangi areas on Friday and Saturday.

"The damaging excavation from Landhi Grid Station to Singer Chowrangi to install security cameras by the local government disconnected about 150 PMTs and substations along the way," he said. "The irresponsible action caused outages in a vast locality covering from 20,000 to 25,000 consumers." These upset residents then took to the streets and damaged KESC offices and electric equipment, which further delayed repairs. The power utility said that such outages can be avoided completely if the city government acts responsibly. If the digging was done after prior notice to the KESC, it would have provided demarcation of electricity feeders and linking cables to them, he said.

"The KESC teams were busy on both days restoring the damaged feeders and linking high tension cables making full efforts to normalise as much area as soon as possible." He also referred to KESC's earlier announcement that the SSGC has stopped supplying adequate natural gas to generate power.

Published in The Express Tribune, April 24th, 2013.
COMMENTS
Comments are moderated and generally will be posted if they are on-topic and not abusive.
For more information, please see our Comments FAQ