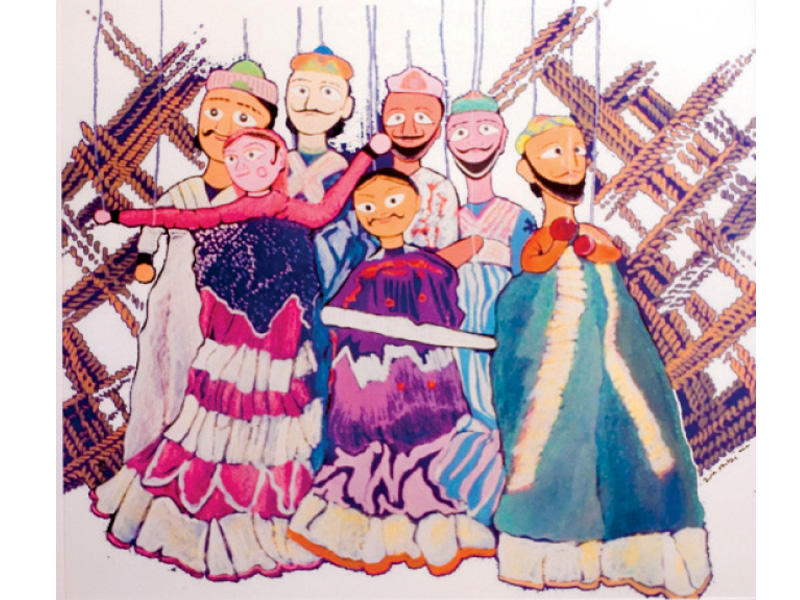 ---
ISLAMABAD:



The canvas is often described as an extension of the artist, unraveling expression and emotion in layers of stroke and colour. Zia Zaidi's solo exhibit that opened at the Nomad Gallery on Saturday is just this: a trajectory of his deep-rooted interest in string-puppetry and a quiet lament on its near-extinction in a digitally-chaotic urban life.




The unassuming artist has a prolific resume, of which, his keen interest and research on desert culture defines the narrative of the 22 pieces on display at the gallery. Zaidi discovered his proclivity for puppetry on family visits to folk festivals in Lahore and Multan, though it wasn't until 1994, when the artist became a part of Alhamra theatre, earning hands-on experience in a craft he valued greatly.

The pieces are in mixed-media and were described by artist and curator, Nageen Hayat as "experimental."  The profundity of Zia's work lies not in the concept, but in the boldness of his technique. The paintings, which are soft and textured, are not very powerful in their own right. They are a testament to the fables, characters and music of the desert people whose lives remain untouched with modernity, she added.

Zaidi views his work as a reflection of his experiences, which are etched in his soul, as part of his journey as an artist. The figures in the paintings are awash with layers of soft colour are characters in the stories that he carries with him from his visits to the desert.

"String puppets are not made in Pakistan," shared Zaidi. "Our heritage suffered immensely because of partition." Pakistani puppeteers are caught up in a struggle for survival, working as vegetable or paan vendors to keep their families afloat. They have little time to indulge in pastimes, to keep traditional stories alive, he added.

Photographic prints of string-puppets are sepia-toned and manipulated with washes of colour and digital experimentation. Hayat feels that the bigger canvases imbibe mellowness and style that reflects Zaidi's meditative nature. While the puppet form heavily influences the figures depicted in the paintings, the shift in mood is caused by the washes of colour and texture that veil the subject itself.

Paintings are priced between Rs5,000 to Rs45,000.

Published in The Express Tribune, April 21st, 2013.