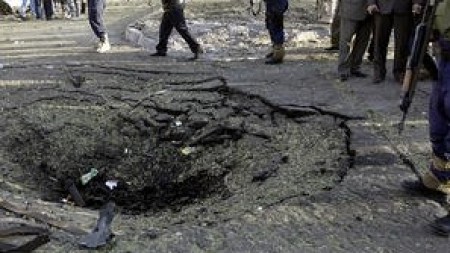 ---
BAGHDAD: Violence spiked as Iraq readied Friday for its first elections since US troops withdrew, with 27 people killed in a late-night bombing at a Baghdad billiards cafe frequented by young men.

The attack raises further questions about the credibility of Saturday's provincial elections, with 14 candidates already having been killed and a third of the country's provinces not even voting amid an ongoing political crisis.

The polls are seen as a key test of Iraq's stability and security, and will provide a gauge of Prime Minister Nuri al-Maliki's popularity as he grapples with infighting in his national unity government and months of protests by Iraq's Sunni Arab minority.

The latest bombing struck at 10pm (1900 GMT) on Thursday in the west Baghdad suburb of Amriyah, leaving 27 dead and more than 50 others wounded, security and medical officials said.

Among the dead were at least three children and a woman.

It exploded at the Dubai cafe, which lies on the 2nd floor of a small shopping mall in the predominantly Sunni neighbourhood that is filled with families as it contains restaurants and clothes shops.

The cafe itself, however, is mostly frequented by young men playing billiards and video games.

Security forces restricted movements in Amriyah on Friday in the wake of the blast.

The bombing is the latest in a wave of violence, with 50 people killed in nationwide attacks on Monday, and March having been the deadliest month in Iraq since last summer, according to an AFP tally.

No group immediately claimed responsibility for the attack, but Sunni militants linked to al Qaeda frequently set off bombings in both Sunni and Shia neighbourhoods across the capital, and the country, in a bid to undermine confidence in the government and security forces.

Officials and diplomats also complain that a long-running spat that has pitted Maliki against several of his erstwhile government partners has been exploited by insurgent groups who use the political differences to enhance their room for manoeuvre on the ground.

An estimated 13.8 million Iraqis are eligible to vote on Saturday for more than 8,000 candidates, with 378 seats being contested.

It is the first vote in Iraq since March 2010 parliamentary polls, and the first since US forces withdrew from the country in December 2011.

Diplomats have raised questions over the credibility of the vote, however, as attacks against candidates have left at least 14 dead and others withdrawing for fear of being targeted, while six of Iraq's 18 provinces will not be taking part, including two where authorities say security cannot be ensured.

Iraqi forces are solely responsible for polling day security, the first time they have been in charge without support from American or other international forces during elections since dictator Saddam Hussein was toppled in 2003.
COMMENTS
Comments are moderated and generally will be posted if they are on-topic and not abusive.
For more information, please see our Comments FAQ