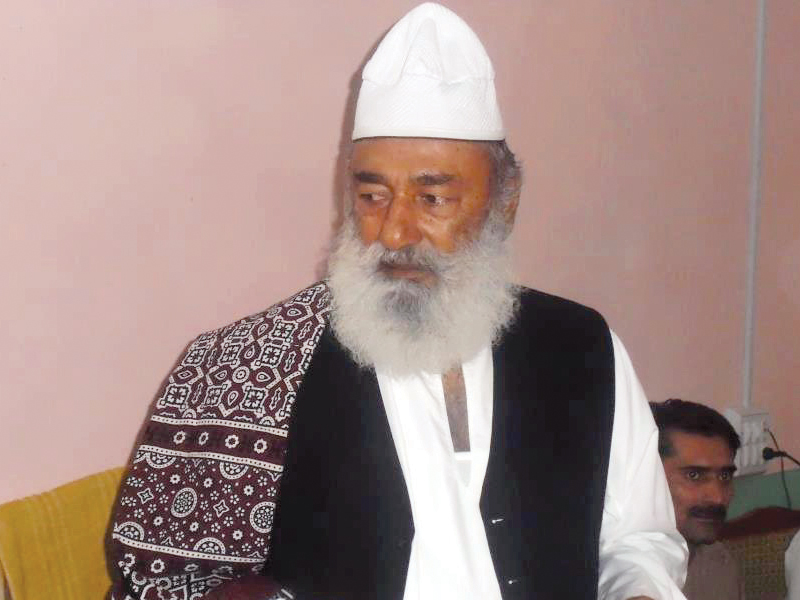 ---
SUKKUR:



The much publicised and debated conversion of Rinkle Kumari (Faryal), among others, appears to have cost the Pir of Bharchoondi Sharif the party ticket for NA-200 Ghotki.




The Pakistan Peoples Party Parliamentarians' leader, Pir Abdul Haq aka Mian Mitho, who won the elections from the NA-200 seat, will contest the elections this year as an independent candidate.

In his place, the party has awarded the ticket to Khalid Ahmed Khan Lund who was previously with the Pakistan Muslim League-Quaid and lost to Mian Mitho in the 2008 elections on the same seat.

Lund joined the PPPP a year ago after former Sindh home minister Dr Zulfiqar Mirza held a meeting with him in Ghotki

Forced conversions

Mian Mitho, who is one of the Pirs of Dargah Bharchoondi Sharif and an influential figure of the area, is known to welcome Hindu boys and girls who wish to embrace Islam. He also reportedly provides them protection from their families and others in case they feel unsafe.




His name came in the limelight after a Hindu girl, Rinkle Kumari (Faryal), converted to Islam in February, 2012. A resident of Mirpur Mathelo, Rinkle eloped with a Muslim boy, Naveed Shah, after embracing Islam at the Dargah Bharchoondi Sharif.

Her conversion led to an uproar in the Hindu community who claimed that she was forced to convert and that Mian Mihto was providing shelter to her alleged kidnappers.

After the Supreme Court of Pakistan took suo motu notice of the incident, Rinkle told the court that she had chosen Islam and married her husband of her own free will. The court allowed her to live with her husband. The allegations of kidnapping and forced conversion, however, did not go away as the Hindu community maintained that she was being threatened by Mian Mitho to say that she converted of her own free will.

Mixed feelings

Lund while talking to The Express Tribune confirmed that PPPP has shown awarded him the party ticket at NA-200 instead of Mian Mitho. "The party's leadership has confidence in me and I won't let them down," he said. "I am thankful to the party and hopefully, will be victorious in the elections."

According to Mian Mitho, the party punished him for serving Islam. "For decades, non-Muslims have been coming to this Dargah to embrace Islam. How can we stop them or turn them away?" he told The Express Tribune. "The first thing we do is contact the family of the person who wants to embrace Islam and only after that we allow them to become Muslim. There are no forced conversions, as being claimed by some people. Instead they are given ample time to reconsider their decision."




In the case of Rinkle Kumari, she was made to talk to her family before embracing Islam, he said.

He accused former Sindh Chief Minister Syed Qaim Ali Shah of asking him to choose between politics and "Mullaism" during a meeting. "I told him I am a Muslim first, then a Pakistani and then a politician. I cannot quit serving Islam."

Mian Mitho has filed nomination papers from NA-200. "Many parties have asked me to join them but I will contest the elections as an independent candidate."

He was confident of victory, saying that all parties were supporting him. "There are around 2,000 Hindu voters in my constituency, out of which 50 per cent might not vote for me - it makes no difference."

Published in The Express Tribune, April 3rd, 2013.
COMMENTS (18)
Comments are moderated and generally will be posted if they are on-topic and not abusive.
For more information, please see our Comments FAQ