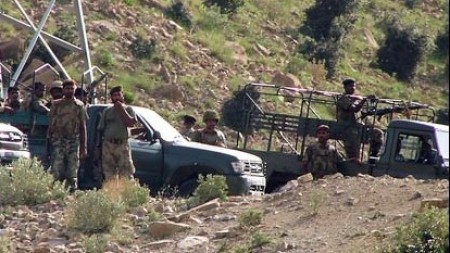 ---
PESHAWAR: At least six security officials, including a lieutenant of the army were killed and more than 25 others were injured when a suicide bomber targetted the Esha checkpost in Miranshah, North Waziristan on Saturday evening.

Sources said that a suspected suicide bomber had exploded his vehicle near the checkpost.

"Half of the check post building has been destroyed in the blast," said a security official in Peshawar, warning that the casualty figure could rise.

"It was a suicide attack. The bomber used a water tanker, he rammed it into the outer wall of the building," the official said.

Earlier in March, five officials of the Frontier Works Organisation (FWO) were injured when a roadside remote-controlled bomb planted by unidentified militants exploded in Ghulam Khan tehsil on Saturday.

An official of the security forces said an explosion occurred near a vehicle carrying the workers around 10:30am, injuring all five.

He explained the workers were constructing the Ghulam Khan Highway and were on their way to the site.

Miranshah is a hotbed of militant activity. US drones have also repeatedly targetted militants in the area.
COMMENTS (4)
Comments are moderated and generally will be posted if they are on-topic and not abusive.
For more information, please see our Comments FAQ