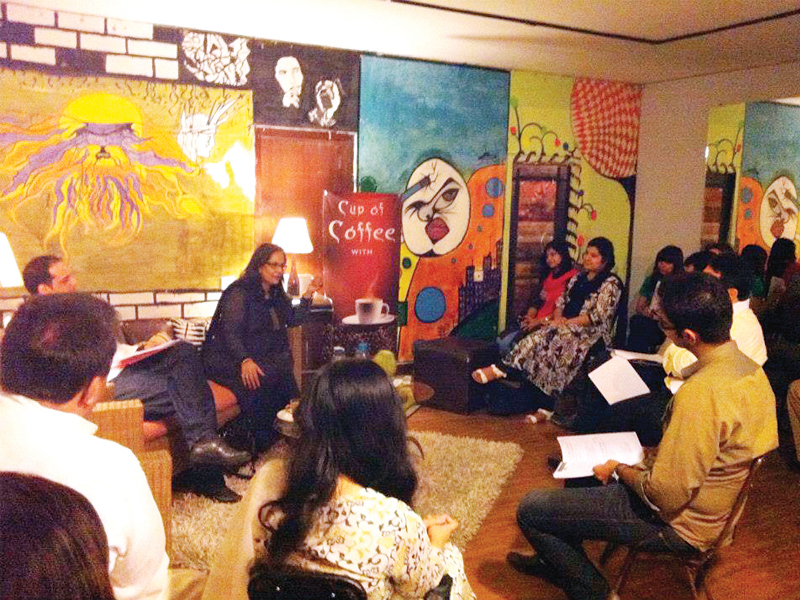 ---
KARACHI:



For ghazal singer Tina Sani, whose 'thinking language' is English, understanding Urdu expressions was a challenge when she started to 'sing' poetry. But she learnt the language well over the years and fell in love with Faiz Ahmed Faiz and Allama Iqbal in the process.




Sani was speaking on the celebration of World Poetry Day at Music, Acting and Dance (MAD) School on Saturday evening with English poet Bilal Hamid. Hamid's selection of English poetry by Pakistani poets was enlightening, however, a somber and a non-interactive recital left the audience bored.

When Sani took the floor, it was like a breath of fresh air. "Unlike this talented gentleman [Hamid], I don't write poetry," started Sani, welcome by a hearty applause. "I sing poetry." The nightingale of Pakistani classical music vastly improved the environment and mood at A Cup of Coffee with Tina Sani, an event which kicked off on a flat note.

Having seen the 1965 and 1971 wars, Sani said she had become a sensitive individual in the early years of her life — someone who felt the plight of her land. The problems faced by the people around her became the reason for her to avoid singing patriotic numbers. "I always wondered if there is something I can sing for my country without feeling guilty about it. Then I stumbled upon Faiz's writing, but could never meet him," continued Sani as the crowd burst out a loud "awww".




Owing to her childhood in Kabul, Sani became fluent in Darri and Persian. At this point, singer Zoe Viccaji, who was present among the audience, asked Sani, "How did you end up understanding the Urdu expression when English was your thinking language?"

Smiling before she answered Viccaji's question, Sani said, "Since Urdu is a merger of so many languages, you never run out of words." For Sani, her fluency in Darri, French and Persian helped her in reading poetry. However, she started understanding Faiz's poetry primarily because of musician Arshad Mehmood, who knew Faiz and had studied his work.

On the evening, which was dedicated to Allama Iqbal, Sani distributed handouts of Indian novelist Khushwant Singh's translation of Iqbal's Shikwa and Jawab-e-Shikwa. With her recordings of Iqbal's ghazals playing in the background, Sani said, "What I like about Iqbal is that you will see his evolution as an individual in his poetry. Shikwa and Jawab-e-Shikwa reflect Iqbal's angst towards what Muslims had done to themselves after the collapse of the Ottoman Empire."

For her upcoming album, Sani will be taking up Jalauluddin Rumi's Masnavi, which will be released by the end of this year in Urdu.

Published in The Express Tribune, March 20th, 2013.                

Like Life & Style on Facebook for the latest in fashion, gossip and entertainment.