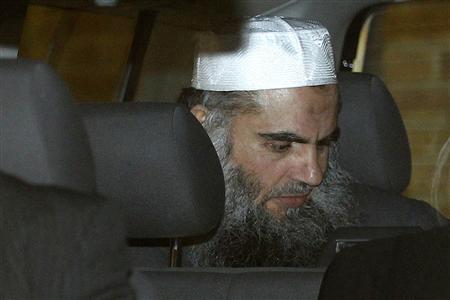 ---
LONDON: Britain was on Monday to contest the ruling blocking the extradition of Jordanian terror suspect Abu Qatada, who was rearrested during the weekend for breaching his bail conditions.

Qatada, real name Omar Mohammed Othman, was convicted in absentia in Jordan of involvement in terror attacks in 1998 and successive British governments have been trying for a decade to secure his deportation.

Lawyers for Home Secretary Theresa May will challenge in London's Court of Appeal on Monday a ruling by the Special Immigration Appeals Commission (SIAC) that Qatada cannot be deported over fears that evidence obtained through torture could be used against him in any retrial.

The Home Office said a decision was possible on Monday.

The cleric, who has been dubbed Osama bin Laden's right-hand man in Europe, was released on bail following November's ruling, causing huge frustration in London.

Prime Minister David Cameron voiced his disappointment after the decision, saying he was "completely fed up with the fact that this man is still at large in our country".

Britain initially detained Qatada in 2002 under anti-terror laws imposed in the wake of 9/11 but he was released under house arrest.

A decade of court battles followed to first keep him behind bars and then remove him from Britain.

The European Court of Human Rights ruled last year that he could not be deported while there was a "real risk that evidence obtained by torture will be used against him" in any retrial.

The home secretary ordered his extradition anyway after Jordan gave assurances that he would be treated fairly.

But SIAC, a semi-secret panel of British judges that deals with national security matters, blocked the move and he was freed on bail.

A judge ordered for him to be sent back to prison on Saturday after ruling that he had breached the conditions of his bail.

Under the terms of his release, Qatada was placed under a curfew and only allowed to leave his home between 8:00am and 4:00pm.

He also had to wear an electronic tag, and restrictions were placed on whom he could meet.

The Sun newspaper reported that his London home had been raided by police on Thursday.

Scotland Yard confirmed that counterterrorism officers had on Saturday completed searches at four addresses in the British capital but found no hazardous materials.

Qatada arrived in Britain in 1993 claiming asylum and has been a thorn in the side of successive British governments.

A Spanish judge once branded him the right-hand man in Europe of bin Laden, although Qatada denies ever having met the late Al-Qaeda leader.

Monday's hearing is due to start at around 10:30 am local time.
COMMENTS (1)
Comments are moderated and generally will be posted if they are on-topic and not abusive.
For more information, please see our Comments FAQ