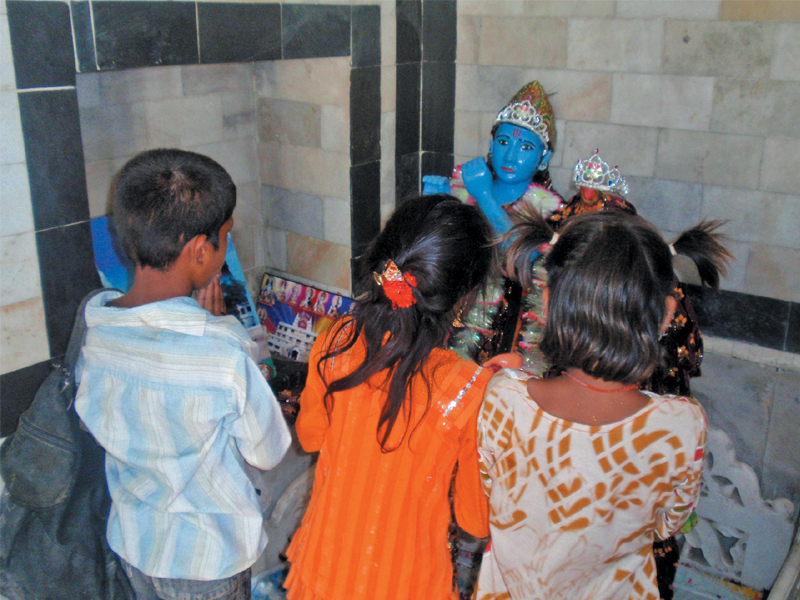 ---
SUKKUR: Members of the Hindu community from all across upper Sindh converged at Sadh Bello Temple, Sukkur, on Sunday to celebrate the Shiv Ratri festival.

"It is held to celebrate the birth anniversary of Shankar Bhagwan, also known as Bholey Nath and Shankar Mahadevan," explained a grain seller, Pehlaj Das. He then went on to explain the origins of the festival. "According to Hindu mythology, Shankar Bhagwan, one of the Hindu gods who reigned over the place which is present-day Sri Lanka, became so pleased with the sincerity of Rawan's worship, that he gave him his throne," he explained. "He then lives the rest of his life in abstinence in a graveyard."

At around 3:30am, Hindu community members arrived at the place of worship using a boat as the temple is located in the middle of River Indus. They chanted various slogans, including 'Jay Baba Bankhandi Maharaj' and 'Jay Baba Bholey Nath' [Long live the god]. After bathing in the river, the pilgrims performed arti pooja (fire worship). "Many of the pilgrims fast for half a day or 24 hours after worship," Raju, the shrine's caretaker, told The Express Tribune. Many of the pilgrims had brought food baskets while stalls selling food items, religious books had been set up in the temple.




According to Das, worshipping Shankar Bhagwan with a clean heart makes people prosperous. "A large number of people visit Sadh Bello, his temple, on this day and have their prayers answered," he said. "I have been coming here since childhood and have had all my prayers answered."

Another man, Satram Das, had come with his family to pay their respects at the temple. "This place is so peaceful that it allows us to forget our problems," he explained. "It feels very good to be here," said his wife, Sawatri Bai, to The Express Tribune. "The religion you belong to matters little - the important thing is that your heart should be pure." Pointing to a child in the arms of her daughter-in law, she explained that she had asked for a grandson on her last visit to the temple and her wish had been fulfilled. "I have asked for peace and happiness for all of humanity," she responded, when questioned about what she had wished for this year.

Published in The Express Tribune, March 11th, 2013.
COMMENTS (1)
Comments are moderated and generally will be posted if they are on-topic and not abusive.
For more information, please see our Comments FAQ