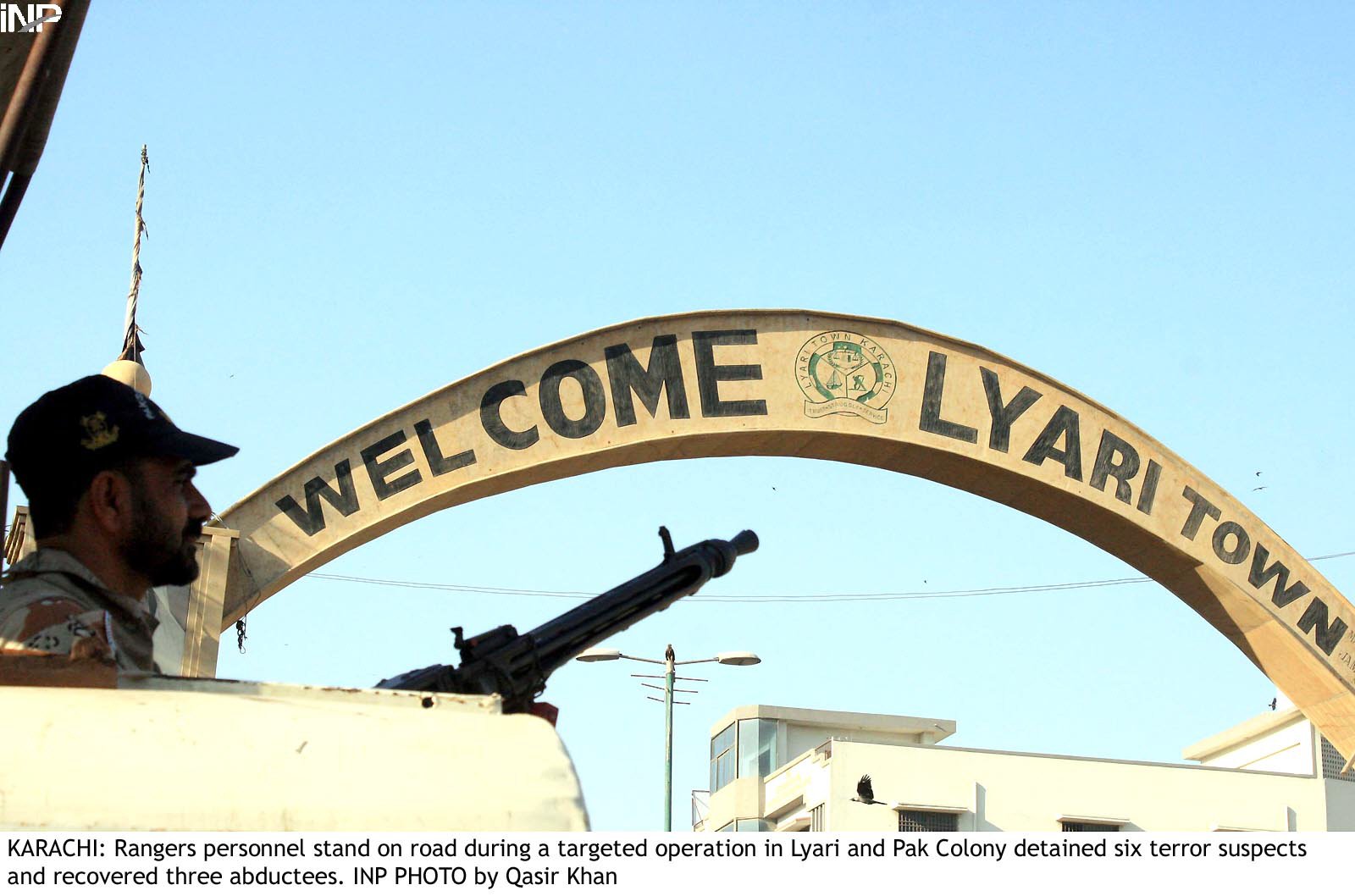 ---
KARACHI: Hundreds of Rangers personnel, backed by armoured personnel carriers, moved into the narrow lanes of Lyari on Thursday, hours after bodies of two of its officials were found from a nearby graveyard.

The paramilitary force, however, maintained that the raids were pre-planned and had nothing to do with the death of its field intelligence officers. Bodies of Ejaz Baloch and Munir Bhutto, who went missing three days back from Pak Colony, were found from the Mewa Shah graveyard. Baloch, a resident of Balochistan's Lasbela area, was posted in the Liaquatabad division whereas Munir Bhutto lived in Malir. "Baloch had been active in the Lyari operation and played a major role in gathering information about the criminals," said a police official.

"We have apprehended four men who were holding people hostage," said a Rangers official. "We haven't found any arms and ammunitions."




While raids were being carried out at Aath Chowk, Nayabad and surrounding areas, hundreds of people protested against the operation in different parts of the city.

Police was also engaged in gunfights with young men as they tried to block roads and set fire to vehicles around Lyari. Four people reportedly sustained bullet injuries. The duration of the operation has not been disclosed as yet.

Lyari answers back

Member of the National Assembly and president of the Pakistan Peoples Party's Karachi division, Abdul Qadar Patel, demanded his own government to call off the ongoing Lyari operation.

During his urgent press conference at the Football Stadium in Lyari which is considered the stronghold of the defunct Peoples Amn Committee, Patel made it clear that not a single person of Lyari was involved in the killings of the Rangers personnel. "The operation should be started in a location where more killings have taken place," he demanded.

The residents alleged that Rangers personnel had previously conducted several search operations. "But on Thursday, they entered houses and tortured women and children. It was unbearable," said a resident. "One of the officials found dead was Sindhi and the other Baloch - why would people of Lyari target them when there is a good relationship between us and the Rangers."

Published in The Express Tribune, March 8th, 2013.
COMMENTS (1)
Comments are moderated and generally will be posted if they are on-topic and not abusive.
For more information, please see our Comments FAQ