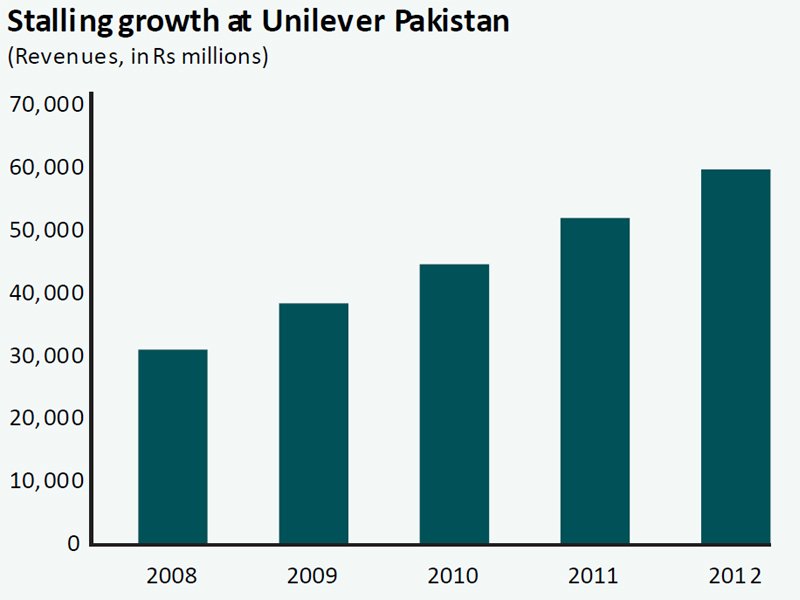 ---
KARACHI:



In what may be the first sign of a slowdown in at least some areas of consumer spending, Unilever Pakistan announced that its top line grew by about 15%, its slowest revenue growth in three years.




The company announced its financial results on Tuesday, and tried to put up a brave face on the results. Net revenue for the financial year ending December 31, 2012 was Rs59.7 billion, up 15%, respectable by most developed country standards, but not in Pakistan where inflation averaged close to 10% during that time and consumer spending has been soaring.

Profits grew faster, at 34%, to reach Rs5.5 billion, driven in part by one-off charges last year that drove profits down, but also by higher gross margins and lower growth in operating costs. Without the one-off charges, profit growth in 2012 would have been 23%, still a respectable figure.

The growth in revenue was hit hard by the paltry 3% volumetric growth in the company's three mature product lines: tea, soaps and detergents. Taken together, these three categories account for roughly two-thirds of Unilever Pakistan's business.

The results, however, were not uniformly bad. Unilever Pakistan's other business lines appear to have done well. According to a statement released to the press, the company said that its "emerging categories" grew at around 20% for the year, about half of which was attributable to underlying volumetric growth.

At least part of its "emerging categories" consists of food products, and it is not surprising that they did well. Unilever Pakistan Foods – the Anglo-Dutch food and consumer goods giant's other subsidiary in the country – announced results last Friday and did better than the larger subsidiary: Unilever Foods' revenue grew at 22% to reach Rs5.9 billion for calendar year 2012.

Yet as disappointing as Tuesday's announcement was, it also provided the first hints at what the company planned on doing, should it be successful in its bid to delist from the Karachi Stock Exchange. Unilever Pakistan plans on investing in growing its "emerging categories", which it hopes will drive its profitability in the future.

Those emerging categories include its ice cream and butter business, but also its shampoo lines. Unilever has recently made a big push to introduce Clear, an anti-dandruff shampoo, in the Pakistani market, as well as many of its Dove line of moisturising products.

The introduction of these products puts it in more direct competition with Procter & Gamble Pakistan, which has had blowout growth over the past year. P&G has seen its revenue grow by 50.5% in Pakistan to reach Rs22.1 billion during the financial year ending June 30, 2012. Its Pakistan subsidiary is not listed.

Yet P&G's rapid growth in personal care products appears to be an outlier in what appears to be a slowing market in Pakistan. Colgate Palmolive Pakistan (a subsidiary of the Lakson Group, the parent conglomerate of this newspaper's publisher) saw its revenues grow by a comparable 16.4% during the calendar year 2012 (the company reports its financial statements on a year that ends June 30).

It is unclear which direction the company will decide to grow next. The London- and Amsterdam-listed global parent has decided to focus primarily on personal care products at the expense of its food business. Yet the dynamics of Pakistan's local market suggest that it may be able to pursue stronger revenue growth were it to focus on its food products.

Delisting Unilever Pakistan – which the global parent announced it wanted to do on November 28, 2012 – may help the company avoid that conversation with minority shareholders. Yet the opposition to the delisting plan appears to be gaining some momentum, with local institutional investors joining the foreign institutional investors' chorus to keep the company listed.

Unilever Pakistan formally submitted its delisting applications on January 24 and February 13, 2013 to all three stock exchanges in the country. Those applications have yet to be accepted.

Published in The Express Tribune, February 27th, 2013.

Like Business on Facebook to stay informed and join in the conversation.
COMMENTS
Comments are moderated and generally will be posted if they are on-topic and not abusive.
For more information, please see our Comments FAQ