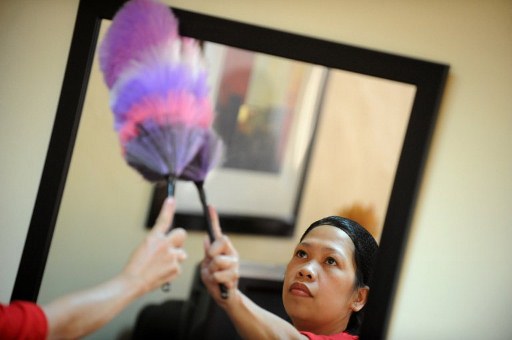 ---
KARACHI:



For the well-to-do in Pakistan, bringing a Filipina maid into the country is a matter of a few hundred thousand rupees.




For only Rs350,000 to Rs400,000, a local agent can ensure that a trained, English-speaking Filipina maid is legally brought to Pakistan. This amount covers the cost of the work visa, plane ticket, paperwork and also the agency's commission.

An official of the Islamabad-based Embassy of the Philippines, Humayun Masood explained how this works. "If a family in Pakistan is looking for a Filipina maid, they approach an agent with their criteria," he said. "The family can also go through the resumes of domestic workers that the agency has, and then make a decision."

The agency then sends an invitation letter and a No Objection Certificate to the worker that has been selected, so that she can apply for a visa. "The agency handles the paperwork," said Masood, adding that the embassy itself deals with only four "authorised" agencies. The Filipino workers are all registered with the embassy.

Atiq Alvi of the agency, Alvi Associates Lahore, said that when a Filipina maid is brought to Pakistan, she signs an agreement with her employer, but her salary of $400 per month has been fixed by the embassy. The agency's commission is not deducted from the worker's monthly salary, he added. "Usually, there are no problems between the maid and the employer but if there are issues then we [the agency] help resolve them," he said. "In most cases, things are sorted out. If not, the employer can dissolve the contract and get a new maid."

Not all cases are, however, so simple. Marium Shaikh said that the $3,500, which comes to around Rs350,000, that she paid to an agency in 2009 went to waste. "Dr [name removed] is a fraud," Shaikh told The Express Tribune. "She gave me an untrained maid who could not speak English. Why should I have to train my maid if I'm paying so much money to keep her?"

When Shaikh complained to the agency after two months, she was told to send the maid back for training. "I never heard from them again," she recalled.

Grace's experience

Twenty-six-year-old Grace, a Filipina maid, came to Pakistan three years ago, "When things were not so strict it was easier for me to come here, but now the embassy in the Philippines has warned us that Pakistan is not safe," she said. After receiving a letter of invitation, all aspiring maids have to submit IDs and an NOC. After that, they have to undergo a two-week training period and a medical test. "If a Filipino wants a work visa for Pakistan, they have to show that they can cook and clean and that they know how to speak English," she explained. "Having contacts and friends' in the embassy makes the process easier."

Grace works in Islamabad, but she was brought to Pakistan by an agent in Lahore. "My first employers were so bad. They did not pay on time and didn't give me days off. So I just ran away!"

With the help of some Filipino friends in Islamabad, she approached the Embassy of the Philippines. Since her employers had withheld her passport, she filed a police report for a 'lost' passport and filed for a new one by showing a photocopy of her work visa. "I hear many stories about bad employers, so I tell all my Filipino friends that if they are unhappy with their employers and want to run away, they must have a photocopy of their work visa."

Grace has managed to obtain a Pakistan Origin Card, even though people usually have to marry a Pakistani citizen to get this card. "Pakistan is not such a strict country," she said in a matter-of-fact tone. "If you have friends at the embassy like I do, you can convert your work visa to a POC for Rs70,000 without showing a marriage certificate."

Published in The Express Tribune, February 24th, 2013.
COMMENTS (15)
Comments are moderated and generally will be posted if they are on-topic and not abusive.
For more information, please see our Comments FAQ