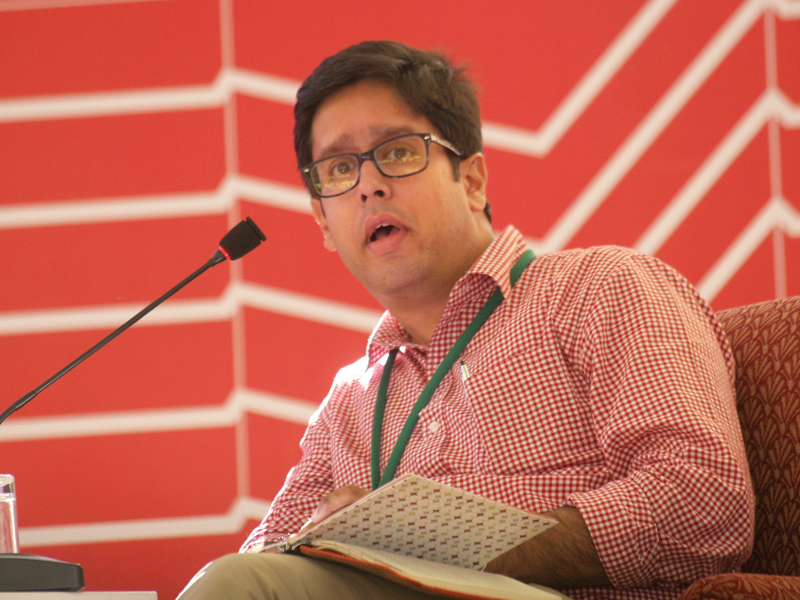 ---
KARACHI:



Pakistan was supposed to be seen through six pairs of foreign eyes on day three of the fourth Karachi Literature Festival, but only three made it to the stage.




Hasnain Kazim, the South Asian correspondent for Der Spiegel, journalist and author Yassin Musharbash, and journalist Declan Walsh of The New York Times were on the panel of 'Pakistan Through Foreign Eyes' moderated by columnist Cyril Almeida.

Reporting on the region was easier for Kazim due to his Pakistani roots and the fact that he spoke a decent amount of Urdu. Most Pakistanis have not read his articles given they are published in German, but he mentioned that the authorities do keep an eye on what he writes.

"They tell me, 'Mr Kazim, you have to be patriotic also.' To that I say no, it is not my job to portray a positive or negative picture, just a true picture," he said. Kazim was disturbed that people have moved on from Saturday's blast in Balochistan that claimed over 80 lives so quickly. "For me it seems very odd that … somehow life goes on. People call it 'Pakistani resilience', but I think you could call it complacence also, because you're not really doing anything about it."

Yassin Musharbash, another German journalist and author, was on his first trip to Pakistan, and clarified that he was not an expert on Pakistan. "Pakistan is one big riddle to me," he said, explaining that his expertise is on al Qaeda and terrorism.

"I couldn't have done that job [discuss al Qaeda] without writing about Pakistan, which is a weird situation because I don't like writing about stuff I don't understand," he admitted.




Musharbash recalled the time he had to put together an info-graphic on terror attacks across the world. When he and his producer decided to include Pakistan, the producer told him there were too many. "This may sound bad but I told her 'How about we only count the ones with at least 20 people dead?'. She called back and said, that's still too many." For him, that was the moment it occurred to him "what a terrible tragedy you are living through in this country".

Declan Walsh, who is The New York Times' Pakistan bureau chief, has had a relationship with Pakistan for the past nine years. His move from the British newspaper The Guardian came under scrutiny, but he deflected the objections by saying that, "The people I work with, despite what some people think, are quite professional. It [The New York Times] is not run by a cabal of Jews," he said, to a chuckling audience. "It does view the world through an American lens," he added, explaining that it is mainly because of its American readership.

Walsh felt that the US interest in Pakistan will probably wane in the coming years, and that will lead to a reduction in media coverage. "The American withdrawal from Afghanistan…will, I believe, have quite a profound effect on Pakistan."

The discussion was followed by a long question-answer session, in which a woman, who lost her son to target killing last year, took the mic only to address Muttahida Qaumi Movement's Farooq Sattar, who happened to be seated in the front row.

Walsh did face criticism on the 'soft topics', such as the fashion week, which he has written on. "There is no one Pakistan. There are many Pakistans that exist side by side. Our responsibility is not to reflect one or the other, but to try and present all of them at various times."

Published in The Express Tribune, February 18th, 2013.
COMMENTS (4)
Comments are moderated and generally will be posted if they are on-topic and not abusive.
For more information, please see our Comments FAQ