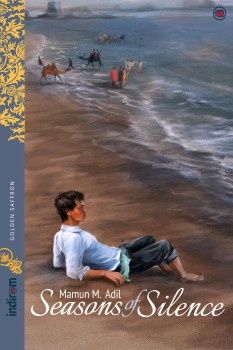 ---
KARACHI: A male writer has ventured into a territory often dominated by women - he has written a romantic novella and he is hoping that it makes it to Bollywood.

For a first-time novelist, Mamun Adil is certainly an optimist. "I hope my book gets picked up by Karan Johar. It has all the dramatic ingredients needed for a movie," said the emerging writer, and a huge Bollywood fan. In fact, he even named a chapter in his book after a popular Kishore Kumar song 'Sagar Kinare'.

On Valentine's Day, Adil and a bunch of his friends celebrated the launch of his e-book 'Seasons of Silence' at Roadside café. "I am single and it's good to celebrate with friends," he said referring to the February 14 launch.

His 80-page book has been launched on the e-publishing website Indirom.com, and can be downloaded for only two dollars.

Adil, who works at daily Dawn, said that writing a novella as a journalist has been a bit difficult. "As a person who copy edits and writes short sentences, it was a bit hard to get used to the freedom to write as much as one wants." Yet the book is precise and to the point, he explained.

The story revolves around Nadeem, a man who is unhappy with his marriage, with the opening lines: "The music was loud, his car was smoky and rather melodious thanks to a thousand cigarettes, a fair amount of whiskey and the putridity of sex and sweat."




Adil studied journalism in New York City (NYC), which explains the glimpses of the city in the book. With the Statue of Liberty on the cover, the main character of the book falls in love with NYC and has difficulty letting go of his past.

Adil gave his book the title, Seasons of Silence, because each chapter is placed in different seasons. The word 'silence' indicates the silence between two people. "Silence can be both painful and comforting," he explained. The writer has left the ending open, as he hopes to write a sequel.

He is excited about the launch of his e-book but a bit apprehensive too. "It's so easy to read stuff online, and the books are easily available," he said. It took him six months to write the book and he had to rewrite it a couple of times.

Journalist Mariam Ali Baig who has read Adils work said that it takes courage to gets one work published. "He was pushed into writing, which is still in its beginning stage. A first novel is never perfect." She did add that it is an interesting story.
COMMENTS (1)
Comments are moderated and generally will be posted if they are on-topic and not abusive.
For more information, please see our Comments FAQ