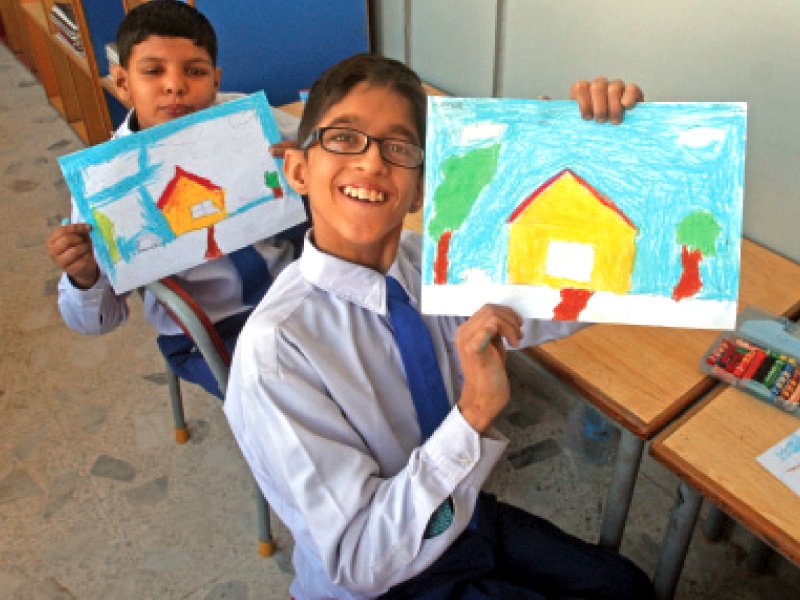 ---
KARACHI:



A group of confident teenage girls stood before a crowd of dignitaries, diplomats and prominent members of the business community. None of them can hear the music start, or listen to the highs and lows of the beat - but the way they start performing in absolute sync, it seems they can hear the music through their hearts.




These girls are celebrating the opening of one of the Deaf Reach schools for the hearing impaired in Gulistan Jauhar on Saturday. This school is one of the many campuses set up in Karachi, Hyderabad, Sukkur, Nawabshah and Lahore by Family Education Services Foundation (FESF) that cater to over 800 deaf students from kindergarten to matriculation.

Even more touching than the sight of these girls performing is the story behind these schools. An expatriate couple, Richard Geary and Heidi, had been living in Pakistan since the early 1980s. After they discovered their son, Michael, was deaf, they were exasperated by the lack of options available for children with special needs in Pakistan.

Hence, they started a school of 15 students in two rooms, donated by someone, in Saddar, where both Heidi and Richard and their other son, Aaron, taught. When Michael passed away a few years later, the couple decided to set up more deaf schools in his legacy.

During his speech on Saturday, Geary - who now serves as FESF's executive director - instantly captured the audiences' attention by referring to the deaf as a "cultural minority" as opposed to a disabled group. "Just like any different culture, they speak a language most of us don't understand."




He then went on to quote some grave statistics on hearing-impaired children. "Nearly 1.5 million children in Pakistan are profoundly deaf, yet only two per cent get a chance to attend school," he said. Teaching these students is also not easy given there is no universal sign language, he added.

In Pakistan, students study Pakistan Sign Language, which has barely been documented in books. Given this lack of resources, FSEF has taken the initiative of creating a visual dictionary with signs for 10,000 words in it. With this open source video dictionary in place, parents will be better able to understand their hearing-impaired children, teachers will have an easier time explaining concepts and the students will have easier time learning.

FSEF also works on providing students with the skills to take up different vocations, such as sewing, weaving, embroidery, tailoring, arts and IT. Graduate of these programmes have succeeded in getting jobs in companies, such as United Bank Limited, Engro, DHL, Alfalah Bank, etc. The students who attended the monthly cooking classes given by Chef Philippe of the Sheraton Hotel were, in fact, hired by the chef to be on his team.

The new campus building, which has a large courtyard, airy classrooms and art and vocational training rooms, has been donated by Technical Education and Vocational Training Authority.

Zainab Burney, a philanthropist at the event, admitted that she felt ashamed. "I can't believe that these people from other countries have spent so much of their time, funds and energy on a section of our society that we Pakistanis don't even acknowledge exists."

Published in The Express Tribune, February 10th, 2013.
COMMENTS (1)
Comments are moderated and generally will be posted if they are on-topic and not abusive.
For more information, please see our Comments FAQ