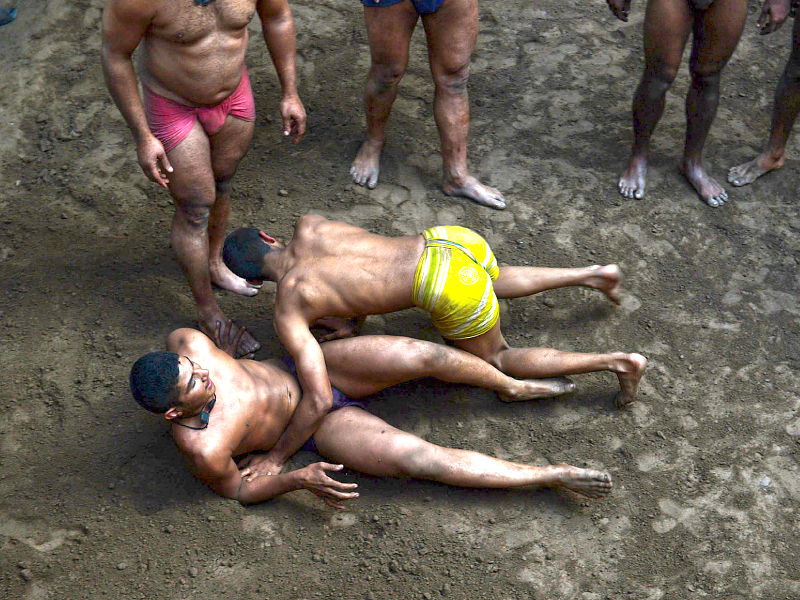 ---
LAHORE:



For decades, their practice ring honed the talent of Pakistan's most famous wrestling family. Today, it is their graveyard, a fitting symbol of the decline of the sport in the country.




The Bholu brothers are buried next to a centuries-old Banyan tree to the side of their former ring. Sweepers clean the mausoleum, but otherwise the compound of a mud court, abandoned gym and small decayed garden is eerily quiet.

Government neglect and poverty has helped consign the glorious feats of Pakistani wrestlers to fast-fading memory. Only a handful carry the torch for the next generation and few command the thousands of spectators of days gone by.

From 1954 to 1970, Pakistan won 18 wrestling gold medals in the Commonwealth Games, five at the Asian Games and a Bronze in the 1960 Olympics.

There was a gold at the Asian Games in 1986 and two in the 2010 Commonwealth Games, but apart from that, international victories have all but dried up. Rings that once thronged with thousands of spectators are now silent.

"I can't speak about wrestling, it hurts me," said Abid Aslam Bholu, whose late brother Jhara was the last of the Bholu family to win titles. The legacy ended there, with Abid instead choosing a career in business as wrestling faded.

The family was wrestlers since 1850. The golden generation – brothers Bholu, Azam, Aslam, Akram and Jhara – practiced in Lahore behind the shrine of a famous sufi saint.

On the worldwide exhibition circuit, they were champions.




In 1967, Bholu offered 5,000 British pounds to anyone in the world who could beat him and that same year won the World Heavyweight Title fight against heavyweight champion Henry Perry in London.

Aslam and Azam enjoyed victories against champions around the world in the 1950s while Akram was nicknamed Double Tiger in 1953 when he beat Ugandan champion Idi Amin.

Jhara, who died in 1991 at 31, was the last big name in the family.

Those left in the sport say that of the 300 akharas, or mud wrestling courts in 1947, barely 30 still operate. The number of wrestlers has fallen from around 7,000 to 300.

The Pakistan Wrestling Federation says the Pakistan Sports Board (PSB) does not have enough money, and that providing grants to private clubs and courts was a complicated process.

Calls for the sponsorship of private akharas are getting louder, said Chaudhary Muhammad Asghar, secretary of the wrestling federation.

He added that a domestic competition with attractive prize money was being devised to try and bring interest back to the sport and return Pakistan to the international arena.

Published in The Express Tribune, January 24th, 2013.