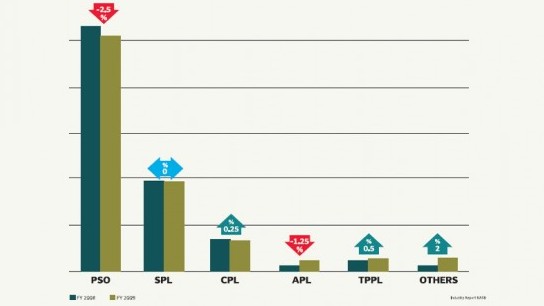 ---
KARACHI: The three biggest oil marketing companies (OMCs) have lost four per cent of their market share to smaller firms in the past year.

This is primarily due to aggressive marketing strategies by small and new oil marketing companies, according to Topline analysts. The three major OMCs, Pakistan State Oil (PSO), Shell Pakistan Ltd (SPL) and Chevron Pakistan Ltd (CPL) had a combined market share of more than 92 per cent in retail business, which reduced to 88 per cent.

Other than the three big firms, there are eight small OMCs including Attock Petroleum (APL), Total Parco (TPPL), Admore, Hascombe, Askar, Overseas Oil Trading (OOTCL), Byco and Bakri Trading (BTCPL). Though OMCs are also engaged in marketing of industrial (furnace oil and other products) and aviation fuels, the size of a typical marketing company is generally gauged through its operation in retail business.

That means selling products through retail outlets. Retail business includes petrol, diesel, HOBC, lubes and compressed natural gas. According to Topline analysis, PSO's retail operation was largely affected in the last one year. The company lost its share in all the provinces. Rising penetration in all provinces Interestingly, the penetration was witnessed in all provinces by the eight small OMCs. In Sindh, they managed to increase their share from 7 per cent in fiscal year 2008 to 11 per cent in fiscal year 2009.

The aggressive small players in the southern region were Overseas Oil Trading Company (OOTCL) and Byco. Similarly, they have eaten up four per cent market share of the large OMCs in Punjab, five per cent in the NWFP and two per cent in Balochistan. Generally, the performance in retail business is a function of number of retail outlets. The more retail outlets higher will be the future growth.

Interestingly, out of 435 retail outlets commissioned during fiscal year 2008, 77 per cent were by small OMCs. In fiscal year 2009, out of 314 new outlets, 57 per cent were contributed by small OMCs.
COMMENTS
Comments are moderated and generally will be posted if they are on-topic and not abusive.
For more information, please see our Comments FAQ