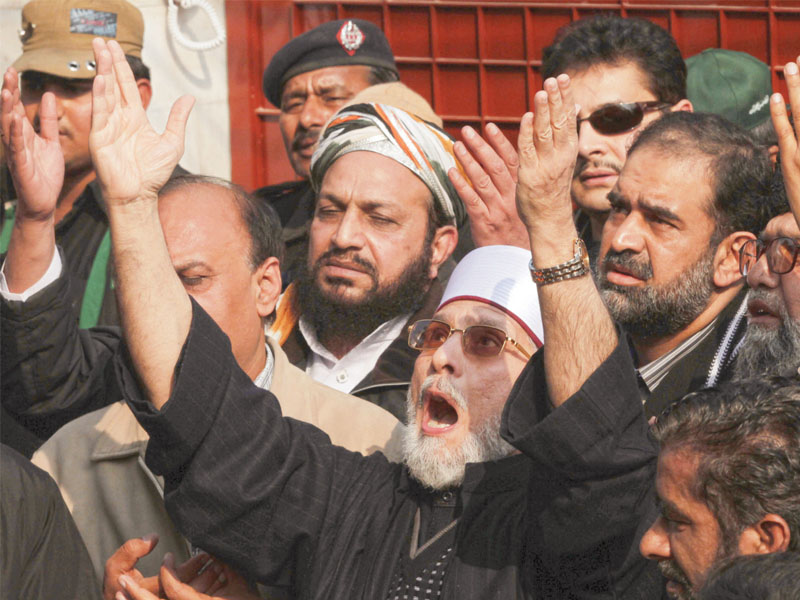 ---
LAHORE:



As Tahirul Qadri prepared to move his political juggernaut towards Islamabad at the head of 100,000 marchers on Sunday, the fired-up leader of the Minhajul Quran International (MQI) warned his opponents that he would return only after toppling the regime.




This will be a historic march, not just for Pakistan but for the entire world, he said, while vowing to stay in the federal capital until all his demands were fulfilled. "Our march will prove to be a march for human rights and true democracy… It will end poverty, strengthen the nation and ensure Quaid-e-Azam's dream comes true."

At 12:45 pm on Sunday – some four hours later than the scheduled time – the MQI chief appeared in front his 299-M Model Town residence. After a brief talk with reporters, Qadri went inside his residence again. He re-emerged half-an-hour later and following an address, boarded his bullet-proof van. With that, the caravan began its journey towards Islamabad.

During his address, Qadri revealed a new demand in response to country-wide protests against the killings of Hazaras in Quetta. He called for the dissolution of the Balochistan Assembly and provincial government for their failure to prevent the deaths of over a hundred people in the provincial capital in a series of devastating blasts. In true Qadri fashion, he announced that he wanted to hear 'this good news' before entering Islamabad.

Qadri once again accused the federal and Punjab governments of trying to stop participants from joining his caravan.

He claimed people from several cities such as Multan, Bahawalpur, Rahim Yar Khan and Okara were not being allowed to proceed towards Lahore. He added that the police had impounded around 30 vehicles MQI had arranged for his personal security and journalists. The MQI chief also claimed the federal government had blockaded the federal capital's entrance with containers 'filled with gases and acid' to harm the participants of the 'million-man' march.

Despite this, as many as 260 vehicles, from trucks and buses, to cars and rickshaws, were part of Qadri's caravan as it left MQI's central secretariat in Lahore. Many more proceeded on motorcycles. Several trucks were laden with edibles, bottled water and gas cylinders to facilitate the participants' 'indefinite stay' in Islamabad.




The marchers appeared in high spirits, in spite of the chilly weather, as they moved through Lahore's Barkat Market, Campus Bridge, Canal Road, Allama Iqbal Road and Ravi Road to finally reach the historic GT road. From there, the participants took five-and-a-half hours to reach Sheikhupura district. By this time, the number of vehicles in the caravan had almost doubled. The participants chanted anti-government and pro-Qadri slogans throughout.

Lahore Operations SSP Suhail Sukheta said 'foolproof' security was being provided to Dr Qadri and the other participants of the million-man march. He said a vehicle carrying a mobile jammer was embedded with the caravan.

MQI also deployed its own security guards for the marchers' safety. Many were armed with batons and some carried firearms.

Interestingly cellular phone services were suspended partially at first and then completely in Lahore as well.

Participants from K-P, AJK gather in twin cities

People from Khyber-Pakhtunkhwa (K-P), Azad Jammu and Kashmir (AJK), and the adjoining areas of Islamabad and Rawalpindi have been pouring into the twin cities to join the million-man march.

By Sunday night, close to a 100,000 people had gathered in the twin cities from these areas, according to a senior official of MQI's Islamabad chapter. He added that around 200,000 people would greet Qadri's caravan upon their arrival in the federal capital.

According to other local MQI activists, at least 50,000 people had arrived from AJK and northern Punjab.

"I have personally accomodated more than a thousand people from AJK in Rawalpindi," said an MQI supporter who asked not to be named.

"People from Peshawar and other parts of K-P will start arriving in Islamabad by Monday noon," said an official in MQI's media cell. He maintained MQI was capable of hosting the long march participants for as long as they decided to stay at the sit-in in Islamabad.

"MQI has made arrangements for as much as six-months in case the sit-in stretched that far," the official added.

"No matter how long it takes, we will persist until our demands our met," said another MQI official. He said Dr Qadri had assured the government that the long march would remain entirely peaceful.

"We will respect our word at all costs but if the government resorts to any unlawful acts then we would not be bound by the promise," the official added.

(WITH ADDITIONAL INPUT BY UMER NANGIANA IN ISLAMABAD)

Published in The Express Tribune, January 14th, 2013.
COMMENTS (66)
Comments are moderated and generally will be posted if they are on-topic and not abusive.
For more information, please see our Comments FAQ