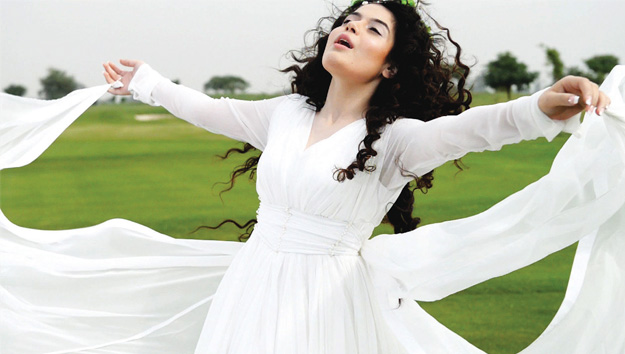 ---
LAHORE:
The Others, a band consisting of the youngest rockers in Pakistan, has finally come out with its first single Hansti Basti, following its debut as a band two years ago at the Young Music Competition.
The brother-sister duo 17-year-old Zoya Uzair (vocalist), and 11-year-old Ali Sultan (drummer), have set the bar high in the music industry by proving that age is just a number when it comes to showcasing musical talent. Accompanying the band is guitarist Bilal Muneer.

The single is a tribute to their great grandfather, writer-poet Bashir Ahmed Bashir. "Our great grandfather passed away a couple of years ago but his writings have been in the family — he mostly wrote ghazals and poetry," says Zoya. "The message is peace. [The video is] quite different from others that are being released these days." This track aims to show a different and softer side of the band as she feels "everything needs to have a deep meaning" and so should music.

The band has opened for leading artists such as Ali Azmat, Noori and several others in the past. Thus predominantly seen as more of a hard-rock English cover band, the musicians decided to change things up a little with the release of this track. "We have been doing covers for a while now despite having several original numbers. We didn't play those at gigs because we wanted to bring the original tracks out with a bang," she continues.

The basic concept of The Others is to mix eastern and western tunes but with this track, the band aims to do something different from what they've been doing so far.




Hansti Basti

The single will also serve to be their first track in Urdu; Zoya is more comfortable singing in English and says the transition to Urdu seemed inevitable as the Pakistani market never really thrived in English. "We also wanted to leave an impact on people's minds with this song," she admits as to why they chose their great grandfather's poetry.

The carefully constructed song, which was recorded live, contains a deep meaning. "The poem is about losing a loved one and the feelings associated with that loss," Zoya explains. In the video, her younger soft-spoken brother Ali, recites the lyrics in the middle. "We recited the poem to sort of provide a bridge [clear understanding] between the music and poetry — I think that was interesting," she adds.




"It was fun and exciting. I didn't get to play heavy drums in this track though, but it was because we wanted to bring a different message forth," says Ali. He admits that giving up the hard-rock sound for this single was an interesting prospect for the band; the song took a while to complete and wasn't created overnight.

Bilal Muneer, with his strong underground pedigree, lent his guitar skills while Akmal Jafri played the flute. Hansti Basti was produced at the popular True Brew Records in Lahore and was composed by Naseem Abbas.

The band's future plans consist of releasing more original numbers. Zoya revealed the next single should be expected within the next couple of months. "It's a fusion track — a blend between eastern and western sounds," she says. "We'll try to highlight education in this number." They will also be touring and performing live throughout the country.

Published in The Express Tribune, January 10th, 2013.              

Like Life & Style on Facebook for the latest in fashion, gossip and entertainment.