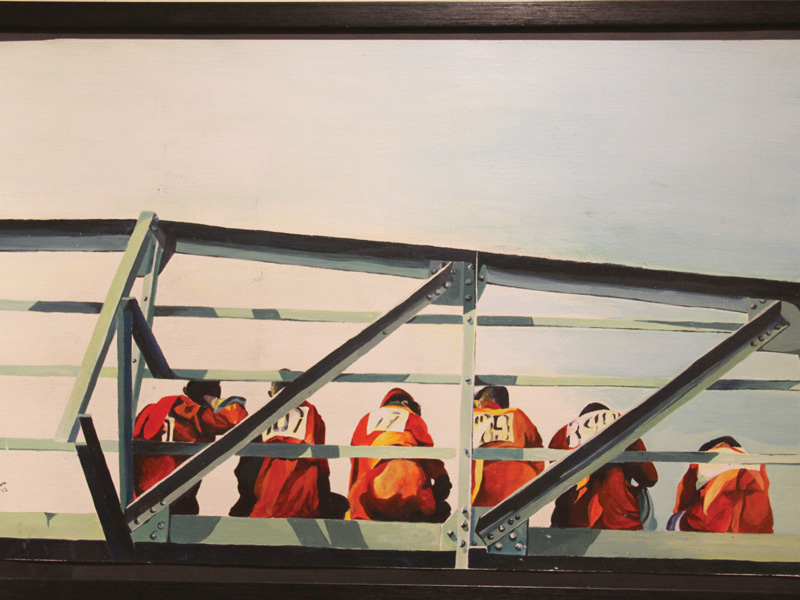 ---
KARACHI: Instead of aiming for 'A' grades with their artwork, 13 students of Karachi Grammar School decided to sell their works to raise money for charity.

They displayed their works at a two-day exhibition titled 'Identity 2013' at Koel Art Gallery.

The paintings, photographs, and other works were sold to raise money for The Citizens Foundation (TCF), an NGO working in the education sector in Pakistan.

The idea for the charity gallery came about when TCF founding chairperson Mushtaq K. Chhapra's daughter, Rijah Chhapra, told him about the impressive artwork she and her classmates were doing at school. She suggested selling it to raise money for the organisation.

Rijah, 18, said that her idea was to not only to help TCF, which is as personal to her as it is to her father, but also to promote the talents of her class fellows. "I really wanted to do something where we can actually bring out our talent and show everyone that 'Look, Pakistan has a lot of good stuff as well'."

Rijah and her classmates worked on the paintings for a whole year. "It would have been a waste if we had put them away under our beds. I wanted everyone to be able to see what we did."

The rest of the students agreed that this was an opportunity for them to launch their careers as artists.

"There couldn't be a bigger opportunity, to exhibiting your work at Koel Art Gallery," said Asad Kamran, 18. "It's such a jump start to my career."


Thirteen KGS students displayed and sold their works at Koel to raise money for TCF. PHOTO: COURTESY TCF

Hiba Karim, 17, pointed out that most of her classmates are heading out to college and may not pursue art. "This is a good chance to do something about it before we go into our own separate directions."

The students also felt that art is a medium through which they can reach out to those who cannot read and write. "In our community, a lot of people can't read. It's actually what they see that impacts them," said Mohsina Shahid, 19. She believed that art can make a difference in many ways.

"Visual art itself is just so pleasing to the eye," Kamran added. "We are in dire need of some happiness today given that everything around us is falling apart."




Koel gallery's director Sarah Faruqui was happy that there was an increased awareness of art in Pakistan. The influx of talented artists, and people eager to buy and collect their works is heartwarming, she said.

"I think it's a great opportunity for the children to participate in … There's some really great stuff here," she said.

Mushtaq Chhapra appreciated that things were changing and that the civil society was becoming more expressive. "Ten, fifteen years ago, it was different. Now more and more galleries have opened up and we see that Pakistanis all over the world are being acclaimed for their work."

"It [TCF] has been working with children - picking up kids from the street and putting them in the schools," Mushtaq explained. "We also invite children from good schools to show them around. It gives a real experience of the reality of the country."

Published in The Express Tribune, January 9th, 2013.
COMMENTS
Comments are moderated and generally will be posted if they are on-topic and not abusive.
For more information, please see our Comments FAQ