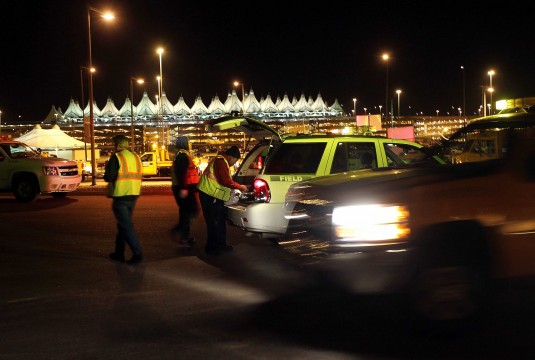 ---
WASHINGTON: US air marshals subdued a Qatari diplomat on a flight to Denver Wednesday in a bomb scare triggered after he reportedly smoked a cigarette and then joked he was trying to ignite his shoes, officials said.

The plane landed safely at Denver International Airport following the disturbance, and US officials later said it appeared the passenger was not trying to blow up the plane, although the incident was under investigation. But the scare prompted fighter jets to scramble and intercept the flight amid fears of a possible repeat of a passenger's foiled attempt to bring down a Northwest Airlines jet on Christmas Day as it approached to land at Detroit.

"The president was briefed by National Security Advisor General Jim Jones and National Security Staff Chief of Staff Denis McDonough at 8:50 pm EDT and appropriate actions were taken to ensure the safety of the traveling public," a White official said. "The incident is currently under investigation," the official added.

Obama was aboard Air Force One at the time, enroute to Prague to sign a nuclear arms reduction treaty with Russia. Law enforcement authorities initially notified key lawmakers that US air marshals subdued the Qatari national, who had apparently sought to "ignite their (his) shoe" on the flight, a congressional aide told AFP on condition of anonymity. "Air marshals jumped in, and the cockpit wasn't breached," the official said.

The man was identified in US media reports as Qatari diplomat Mohammed al-Modadi, 27, who as the third secretary and vice consul of the Qatari embassy in Washington enjoys full diplomatic immunity. The FBI was investigating the incident, but a US official told AFP the incident was "not what it appeared to be" and there was no attempt to detonate a bomb.

The incident came a week after the United States unveiled new security  measures subjecting all US-bound plane passengers to screening methods that use real-time intelligence to target potential threats, replacing the mandatory  screening of passengers from a blacklist of 14 mainly Muslim countries.
COMMENTS
Comments are moderated and generally will be posted if they are on-topic and not abusive.
For more information, please see our Comments FAQ