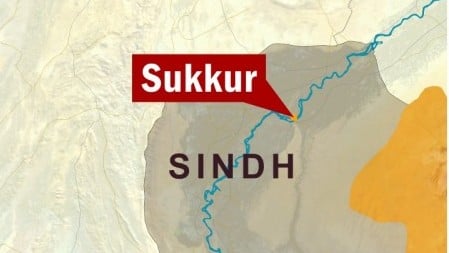 ---
SUKKUR: The Jacobabad police are looking for a teenaged girl Zeenat Domki, who was labeled a kari within a couple of hours of her marriage to a man twice her age on Tuesday.

One year ago, her father Qutbuddin Domki of Mauladad town betrothed Zeenat, who was 13 year old at the time, to landlord Abdul Malik Rind, 35, who lived in Miranpur. Domki had promised to marry her off at the age of 18, a condition that was accepted by Rind.

However, six months into the engagement, Rind started pressuring Domki to solemnise the nikkah. Domki resisted because she was still too young.

On Monday evening, Rind, some relatives and a cleric came to Domki's house and threatened him with dire consequences if he continued to refuse. Domki capitulated and 14-year-old Zeenat was married to Rind who took her back to his village in Miranpur.

A few hours later, however, he declared his new wife a 'kari' and tried to kill her. Sources said that a screaming Zeenat managed to escape and make her way to the Miranpur police station.

In a statement to the police, Zeenat gave details of the marriage and requested protection against her husband. In the meantime, Rind arrived at the police station, where, according to sources, he struck a deal with the police and took his wife back home.

Miranpur SHO Fida Hussain Shaikh told The Express Tribune, however, that no girl came to the police station seeking protection. He admitted that someone from the area had called him on the telephone and told him about the incident. He said that he was on his way to the area investigate the matter. When contacted later, the SHO said that Rind and his close relatives had abandoned their homes and no one was present to give the police information about the case.

The SHO quoted some elders of the Rind tribe who said that Zeenat was alive but there was no danger to her life.

Published in The Express Tribune, July 16th, 2010.
COMMENTS
Comments are moderated and generally will be posted if they are on-topic and not abusive.
For more information, please see our Comments FAQ