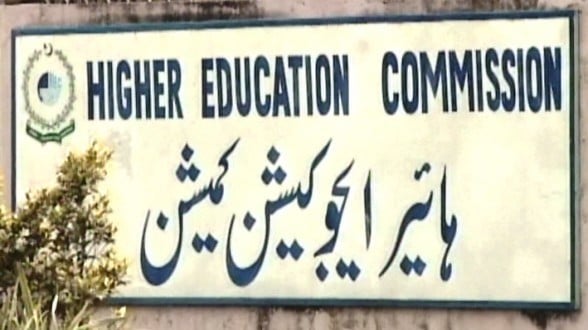 ---
The Higher Education Commission of Pakistan (HEC) has announced that the academic degrees of at least 29 parliamentarians are fake.

"We received 936 [scrutinised] degrees, out of which 511 degrees have been verified and 29 invalid degrees have been found," Mehmood Raza, an adviser of the HEC, told a news conference on Tuesday but refused to name the ones whose certificates are fake.

The commission will present its full report to the National Assembly's standing committee on education on July 16.

Meanwhile, the University of the Punjab, which has received more degrees than other universities, has declared six more degrees bogus.

Of the six declared fake, five degrees belong to Punjab Assembly members and one belongs to a member of the Khyber-Pakhtunkhwa Assembly, according to the university's spokesperson Khawaja Tahir.

Tahir said that they had received 314 degrees for verification and a report of 217 degrees has been sent to the HEC. Of these degrees, 11 belong to senators, 70 belong to members of the National Assembly, 125 belong to members of the Punjab Assembly, and four to members of the Khyber-Pakhtunkhwa Assembly. The university has sought two more days to verify the remaining 89 degrees.

A special committee, constituted by the university's Vice-Chancellor Professor Dr Mujahid Kamran is responsible for scrutinising the degrees and records are available with the examinations branch. Earlier, the university had returned photocopies of degrees of eight parliamentarians to the HEC for being vague and illegible.

The University of Karachi has also sent 103 degrees to the HEC. University sources said that Faisal Raza Abidi's degree was authentic but refused to comment on the degrees of Yaqoob Bizenjo and Jameel Malik whose cases are pending in court.

Mounting pressure

HEC Chairperson Javed Leghari may resign from his post due to rising differences with the ruling Pakistan Peoples Party (PPP) over the bogus degrees issue, Online news agency reported on Tuesday.

Leghari, who was appointed by Prime Minister Gilani in August 2009, may also end his affiliation with the PPP. A former member of the PPP's Central Executive Committee, he was also elected as a party senator from 2006 to 2009.

According to sources, serious differences have emerged between Dr Leghari and the PPP over the verification of degrees, which was ordered by the Supreme Court. The HEC chairman is reportedly under tremendous pressure from the government over the manner in which the commission is verifying degrees.

Sources said that Dr Leghari was being pressurised to slow down the process and is also "receiving threats for non-cooperation". They added that the arrest of Dr Leghari's brother in Hyderabad for fraudulent dealing with the government is actually a "message" for the HEC chairperson.

Sources said that the HEC chairperson has refused to succumb to pressure but he has decided to resign and end his political affiliation once the verification process is complete.

Dr Leghari, however, has refused to comment but his personal assistant said that he had no intention to leave or resign.

Meanwhile, three HEC officials have left on leaves, allegedly to avoid the pressure. Operations team member Dr Mukhtar, media director Ayesha Akram and spokesperson Muhammad Raza are among those on leave. When contacted, Dr Muktar confirmed that he was indeed on a leave but said that it was for an official visit to Turkey. AGENCIES (WITH ADDITIONAL REPORTING BY ABDUL MANAN IN LAHORE)

Published in The Express Tribune, July 14th, 2010.
COMMENTS (2)
Comments are moderated and generally will be posted if they are on-topic and not abusive.
For more information, please see our Comments FAQ