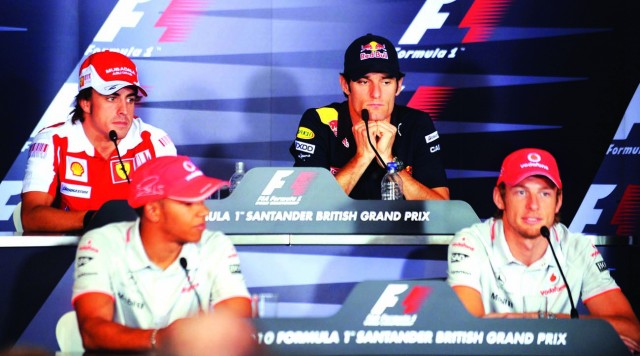 ---
SILVERSTONE: As McLaren prepare for the British Grand Prix at the redesigned Silverstone circuit this weekend, home heroes Lewis Hamilton and Jenson Button are hoping upgraded cars will give them the edge over the high-flying Red Bulls.

Although several teams introduced upgrades ahead of the European Grand Prix, German Sebastian Vettel proved that the Red Bull car was still the fastest by cruising to victory at the Valencia street circuit.

Defending drivers' champion Button is worried that his team might be playing catch-up.

The 30-year-old British driver admitted that it is crucial for his team to get the most out of their updates if they are to challenge their rivals, but is unsure if they will have enough testing time.

"Other teams have been working on their update kits and they are a race ahead of us," said Button. "They came out very strong, but I still think we did a very good job in Valencia to get two cars on the podium.

"Here we do need to raise our game. We do need to add performance to the car if we are going to challenge the Red Bulls and a couple of other teams.

"The updates are very important for the rest of our season. They don't always work when you first put them on the car. As we saw with a couple of teams in Valencia who had an update package, you need to work on it."

Fellow Briton Hamilton, 25, also has his reservations about the upgrades, but insisted that he would be doing everything he could to get the car performing to its maximum.

"We have to make sure we make these components work this weekend," said Hamilton. "We haven't had time to test them really so there has to be some adjustments made to the car - and how we have to drive it to get the optimum.

"We are looking forward to it. We don't know how much the package will deliver, it doesn't always bring what you expect - so we have to see which parts work and which parts don't."

Former world champion Briton Damon Hill, who took the title in 2006, this week suggested that the calm relationship between British heroes Button and Hamilton is unlikely to survive the year. "It's just been on simmer at the moment.. Soon, it's going to start to boil over. This could be the start of the rest of the season," he explained.

Button was quick to reply and insisted that the two drivers have a very good understanding.

"We are both very competitive and we both want to win, but as we keep saying, first of all you have to work together.

"You have to work closely to improve the car and I think we've done a very good job this year of pushing each other very hard, not just on the circuit, but also off the circuit in developing the car and the set-up.

"So for me it is a good relationship. I am sure it is going to continue."

Published in The Express Tribune, July 9th, 2010.
COMMENTS
Comments are moderated and generally will be posted if they are on-topic and not abusive.
For more information, please see our Comments FAQ