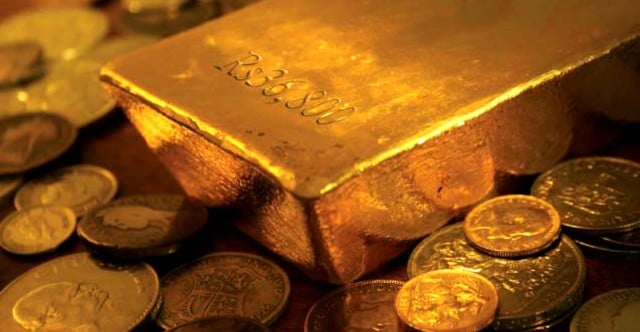 ---
KARACHI: Gold prices fell by Rs500 per tola (11.7 grams) to Rs38,500 on Wednesday, the lowest in a month, as international prices also dipped.

The local market, however, continued to remain unresponsive despite the fall in prices, said President of All Sindh Sarraf Jewellers Association, Haroon Rashid Chand. The ten-gram rate of the precious metal was Rs33,000, down by Rs428, which is also the lowest in almost five weeks.

Chand said that the depreciating rupee played a very important role in the value of gold, as the rupee-dollar parity directly affected its rates in the domestic bullion market.

He said that declining international rates also affected the yellow metal's movements. Referring to the foreign bullion market, Chand said that since the Fifa World Cup had commenced, gold had been losing its demand.

He said that foreign investors and bookmakers (bookies) had shifted to the world cup matches to place their bets, rather than play at the bullion market. "If you analyse closely, you will see a significant difference in the demand for gold, which will rise once the soccer matches are over," he said. Chand said that the lack of interest in gold had eventually led to lower prices.

He added that the third reason for the declining value of the precious metal was the 'closing period' of financial institutions that were drawing up their financial statements. Most foreign banks hold gold reserves, usually against their respective currencies or the US dollar.

Gold prices in the international market reached almost six-week lows at $1,188 an ounce. Thebulliondesk.com reported that sagging euro and equities and a stronger dollar had also led to the decline in gold prices.

Published in The Express Tribune, July 8th, 2010.
COMMENTS
Comments are moderated and generally will be posted if they are on-topic and not abusive.
For more information, please see our Comments FAQ