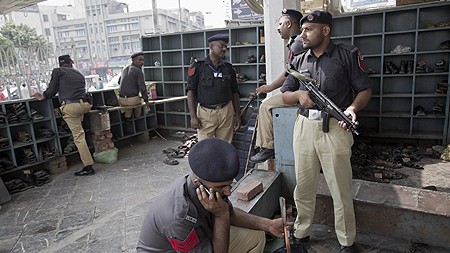 ---
LAHORE: Five suspects were arrested after a shootout from a mosque near the shrine of Hazrat Data Ganj Bukhsh a few minutes ahead of the arrival of Punjab Chief Minister Shahbaz Sharif on Sunday evening.

A policeman said that the men were first brought into the notice of security personnel by a disabled man who began shouting for help after he saw people carrying arms on the Melaram Darbar Road.

When two policemen tried to detain them, they started firing and evaded security personnel.

They were arrested after a joint contingent of Elite Force and Punjab Police launched a large-scale combing operation from the mosque adjacent to the shrine of Baba Mushtaq, in the vicinity of the Data Darbar.

Just as the suspects were arrested, a large number of people gathered there, appreciating the police performance and praising them for foiling another terrorism bid. They also shouted slogans in favour of the police force.

Convener of Sunni Tehrik Mujahid Abdul Rasool accused the police of arresting "two innocent Tehrik activists named Shahid Qadri and Amjad Hussain Wattoo". He said if their activists were not released, they would resort to violent protests.

When Mian Shahbaz Sharif arrived at the shrine, he held a meeting with delegations of Tahafuz Namoos-e-Risalat (TNR) and Sunni Ittehad Council (SIC). The TNR team was led by Razae Mustafa and Raghib Naeemi, while the SIC delegation was led by Sahibzada Fazal Karim.

Shahbaz Sharif, who had invited these religious leaders to his Raiwind residence for redressal of their grievances, had to reach the Data Darbar after Sahibzada Razae Musatafa announced that they would not attend the meeting. He had said that they would only meet him at the shrine.

The main demand of the religious leaders was the removal of Punjab Law Minister Rana Sanaullah and accused him of having ties with terrorist elements, TNR leader Haji Muhammad Imran told The Express Tribune. He said other demands included a "complete and effective ban on all terrorist organisations, identify and tracking people supporting suicide bombers in Lahore and elsewhere.

Published  in The Express Tribune, July 5th, 2010.
COMMENTS (6)
Comments are moderated and generally will be posted if they are on-topic and not abusive.
For more information, please see our Comments FAQ