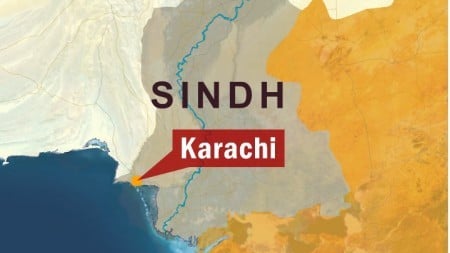 ---
KARACHI: A man, who was sentenced to jail five years ago,appears to have disappeared. A court issued the Central Jail superintendent  a show-cause notice, under which, he must submit a complete report regarding Shahzad's whereabouts within three days.

After public prosecutor Syed Shameem Ahmed complained to South judicial magistrate Sadaruddin, saying that Shahzad had yet to be presented before the court despite being summoned on numerous occasions, jail officials claimed that Shahzad, who was arrested by the Kalri police on July 13, 2005, for the possession of illegal weapons, was never in jail to begin with.

Shehzad had been arrested and sent to jail five years ago by a court on judicial remand. On May 4, 2006, judicial magistrate Muqtadar Ali Khan had approved Shahzad's bail for Rs30,000.

On December 19, 2007, however, Shahzad's lawyer had submitted a written application in which it was stated that his client had been arrested by the Kalri police and had been sent to jail.

On the lawyer's plea for a hearing, the court had issued directives to the Malir Jail superintendant, asking for Shahzad's presence before the court on October 2, 2007.

The court continued to issue PO orders to the Malir Jail superintendant, but to no avail. On February 19, 2010, however, after the court issued strict orders to the jail officials, they submitted a detailed explanation, denying Shahzad's presence in jail.

Industrial jail officials also informed the court that Shahzad was not with them. Despite the passage of three years, however, Central Jail superintendant has yet to inform the court regarding Shahzad's whereabouts.

Published in The Express Tribune, July 5th, 2010.