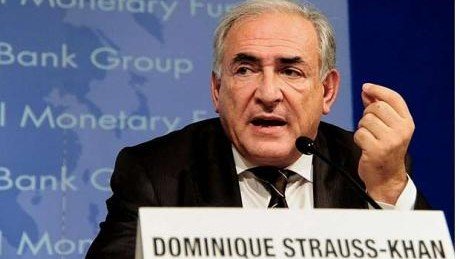 ---
The head of the International Monetary Fund (IMF) on Monday praised Pakistan's commitment to an $11.3 billion rescue package, despite a delay in imposing a nationwide consumption tax.

IMF Managing Director Dominique Strauss-Kahn said that while Pakistan could not be considered a "normal country" in light of its wave of violence, the government has made a "good step forward" on economic reforms.

"There is a lot of concern but no real problem. I think they are going ahead rightly," Strauss-Kahn said in a group interview.

The IMF in 2008 approved a rescue package for Pakistan as the country struggled to cope with security problems, high inflation and fast-depleting reserves.

The Washington-based international lender approved the latest $1.13 billion tranche of the package in May and allowed two waivers on conditions, including giving the government the right to overrun the budget deficit.

As part of the IMF bailout, the government had agreed to impose a nationwide value added tax to bolster its coffers and drum up funding to fight poverty. But leaders are squabbling over how to set up the tax. Some people have voiced fear that the delay could lead to a cut-off in the IMF support.

Strauss-Kahn acknowledged that the IMF had "questions" about the tax and energy prices, but added: "I must say that a lot has already been delivered by the government."

Another concern, Strauss-Kahn said, was to ensure that donor nations - informally grouped as the Friends of Pakistan - follow through with the pledges.

"I have no immediate concern about Pakistan. The question is how much the so-called Friends of Pakistan set of countries are willing to help the country, really deliver and provide the resources, because all the resources needed are not supposed to come from the IMF," he said.

Donors met in April 2009 in Tokyo and pledged $5.28 billion to help stabilise Pakistan, which is the Islamic world's only declared nuclear weapons state and lies on the frontline of the US-led war on extremists in Afghanistan.

The US Congress last year approved a five-year $7.5 billion plan to build roads, schools and democratic institutions in Pakistan. AFP

Published in The Express Tribune, June 30th, 2010.
COMMENTS
Comments are moderated and generally will be posted if they are on-topic and not abusive.
For more information, please see our Comments FAQ