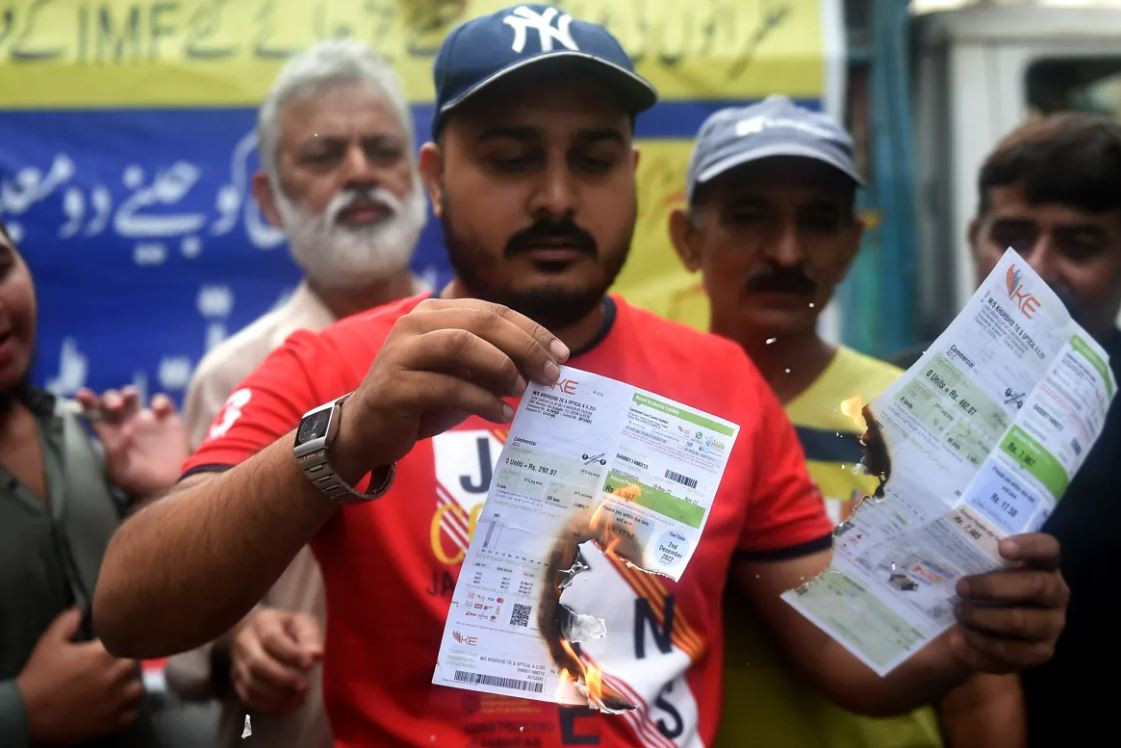 ---
ISLAMABAD/ LAHORE:
In line with the orders of the Ministry of Energy, an operation against power pilferers has kicked off wherein cases have been registered in Lahore, Faisalabad, Gujranwala and Multan against former members of the assembly, politicians, influential figures as well as others, and detection bills worth millions of rupees have been served for stealing millions of units.
A detection bill is served for illegal abstraction of electricity or consumption of energy; direct hooking; and on account of slowness etc in accordance with the provisions of Section 26-A of the Electricity Act, 1920.
In the grand operation in the Lahore Electric Supply Company region, 330 electricity thieves, including important personalities, were caught. One hundred and thirty cases were registered while 11 suspects were arrested.
According to details, following the instructions of the Power Division, an operation was conducted against electricity thieves in all the circles of Lesco under the supervision of Chief Executive Engineer Shahid Haider.
Read Top military brass resolves to counter 'inimical propaganda'
During the operation, Haider said, 330 connections were found involved in electricity theft in all the circles.
FIRs against all the power pilferers had been filed in the respective police stations, of which 130 FIRs had been registered and 11 accused arrested, he added.
"All the connections have been disconnected and 1,037,425 units have been charged in the form of detection bills, the total amount of which is Rs40.74 million."
According to documents available with The Express Tribune, an amount of Rs250,000 was charged from former MNA Mehr Saeed Zafar Padhiar through the detection bill; Rs69,457 from ex-District Council chairman Rana Ayub, Rs264,638 from former councillor Nazar Hussain; Rs414,545 from Nadeem Ahmed Gogh; and Rs268,112 was charged from former vice chairman Allah Tawakal.
An amount of Rs205,247 was charged from Pakistan Tehreek-e-Insaf leader Tariq Javed; Rs129,023 from Zeeshan Ali; Rs560,000 from Sajid Manzoor alias Muna Prince; Rs325,750 from former councilor Rana Ejaz, Rs686,100 from PML-Q Vice Chairman Akram for electricity theft.
The Green Cap Housing Society has been slapped with a detection bill worth Rs3.59 million for power theft.
The Lesco chief said that the grand operation would continue without discrimination until the complete end of electricity theft.
During the operation, he said, the "electricity thieves as well as the Lesco officers and employees who patronise them will also be brought to justice".
A full-scale crackdown was also launched against electricity theft in the Faisalabad Electric Supply Company region.
In this regard, a high-level meeting was held at the Fesco headquarters under the chairmanship of Chief Executive Engineer Bashir Ahmed.
Ahmed directed all operation circles and field formations in the Fesco region to take strict action against electricity theft.
The chief executive said that the electricity thieves should be dealt with an iron hand, making it clear that the strictest legal and departmental action would be taken against those employees/facilitators who supported them.
He also instructed to check the meters of the houses of officers and employees in Fesco colonies without discrimination.
Read More Govt reforming taxation system through digitalisation: PM Kakar
Chairman Fesco (WAPDA) Malik Tahseen Awan said that the services of the district administration and police had also been obtained for the elimination of electricity theft and recovery from defaulters.
He instructed all the field formations to participate fully in the national campaign and use their best abilities, saying: "No laziness and negligence will be tolerated in this regard."
The campaign would continue until this national crime is absolved.
He added that electricity theft and non-payment of dues not only affected the financial affairs of the company but also had wider economic implications. "These often lead to an increase in tariffs," he said. "Despite the efforts of the power company staff, there are many challenges in preventing electricity theft."
He highlighted that cooperation of provincial authorities was essential for controlling electricity theft and making recoveries from defaulters.
On the direction of the Ministry of Energy, a comprehensive public awareness campaign was launched against electricity theft through print, electronic, and social media to inform the public about the effects of electricity theft and non-recovery from defaulters on power distribution companies and the national economy.
Awan said that lists of defaulters have been compiled and handed over to the operation staff and recovery will be done indiscriminately.
The Multan Electric Supply Company, under the supervision of Chief Executive Officer Engineer Mahar Allah Yar Bharwana, also launched an operation against electricity thieves.
Superintending Engineer Multan Circle Farhan Shabbir Malik formed teams at sub-divisional and divisional levels in the areas under the control of the circle. Teams led by SDOs in different areas of Multan and Shujabad tehsils caught 13 consumers stealing electricity by tampering with direct wires/meters.
The team headed by SDO Industrial Estate Sub-Division Abdul Bari nabbed two, SDO New Multan Sub-Division Muhammad Ali Tahir two, SDO Nawan Shehr Sub-Division Ikram Syal one, SDO Shah Rukn Alam Sub-Division Malik Kazim Awan two, SDO Ghala Mandi Sub-Division Salman Saeed one, SDO Hassanabad Sub-Division two, while one was held in Shujaabad/Alipur and Sadat/Piran Ghabis Sub-Division.
The authorities caught a consumer red-handed stealing electricity by installing direct wires and removed the electrical installations.
Mepco officials have sent applications to the police stations for registration of cases.
Four K-P districts not paying bills
Recovery of power bills is a major challenge for the national economy which suffers a loss of over Rs49 billion every month on account of electricity theft, the documents shared by the caretaker energy minister after his Wednesday's news conference revealed.
Minister for Energy Muhammad Ali announced the interim government's decision to amend the Electricity Theft Control Act through an ordinance in order to establish special courts to try people involved in electricity theft. This move, he said, aimed at addressing the persistent issue of power sector losses and a growing circular debt.
According to the documents, 100% consumers in four districts of Khyber-Pakhtunkhwa (K-P)—Bannu, DI Khan, Tank, and Shangla—were not paying any electricity bill while around 90% people in Pasni, Gwadar, Makran, Khuzdar and Lorelai districts of Balochistan got electricity through illegal connections.
Read Also Eleven LHC judges to get interest-free loans
The rate of bill collection has reduced by 5% to 6% in Hyderabad Division of Sindh and 9% in Tando Allahyar. Fifteen per cent of consumers used illegal connections in Tando Muhammad Khan; 21% in Shaheed Benazirabad; 60% in Larkana and 40% in Sukkur.
During the course of one year, power distribution companies (DISCOs) purchased 116.5 billion units of electricity. They sold 97.34 billion units to consumers while 19.17 billion units were either stolen or lost due to technical deficiencies.
In this regard, the Peshawar Electric Supply Company (Pesco) suffered the greatest losses as its 5.7 billion units worth Rs77 billion were stolen in one year.
This pressing issue has prompted relevant authorities to take action, and a crackdown against electricity theft has been initiated across the country.
While confirming a crackdown against electricity theft, Power Division Secretary Rashid Mahmood Langrial said it would not be an easy task but added that failure was not an option.
He said all chief secretaries and inspector generals of police (IGPs) were actively participating in this indiscriminate campaign. "Instructions have been given to field formations not to spare anyone involved in electricity theft," he added.
Energy saving plan
Meanwhile, the government is considering a plan to close commercial centres across the country in the evening to conserve electricity during the winter season. The plan may be implemented from Oct 1 to Feb 15.
According to the Power Division, the federal government has sent recommendations to all four provinces. The provincial governments will consult with relevant chambers of commerce and business organisations in this regard.
The PML-N led government had also announced the closure of shops and businesses, but they were unable to implement the closure of businesses in the evening.