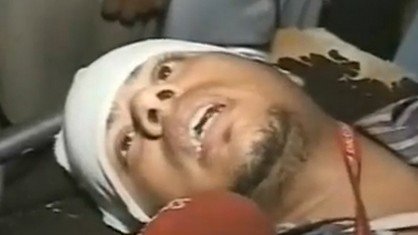 ---
LAHORE:

Liberty Market SHO Ahsan Ashraf Butt has been suspended for assaulting a cameraman of Express News, on Sunday.


Earlier, Gulberg police had registered an FIR against their SHO for torturing and kidnapping a cameraman from Express News.

The FIR was registered on the complaint of Express News Bureau Chief Muhammad Ilyas, who alleged that the SHO and 16 other unidentified people, including 10 policemen, attacked cameraman Farrukh.

In the FIR it is said that Farrukh was filming police's torture on protestors during a demolition operation of Liberty Parking Plaza.

It is alleged that the SHO and other policemen stopped Farrukh from filming and when he refused to do so, they tortured and kidnapped him. Farrukh was kept in illegal detention at the police station, said the FIR registered under section 379 (Punishment for theft) and 506 (punishment for criminal intimidation) of the Pakistan Penal Code.

The police did not include claims of physical torture, although Farrukh's body had deep marks. His collar-bone was also fractured but the police included offences from which the accused could be released on bail.

The cameraman claimed that police officials broke his camera and took the recording tape. Police officials said that Butt's duty as SHO have now been given to Sub Inspector Muhammad Iqbal. Officials added that the former SHO had not been suspended so far.

Published in The Express Tribune, June 27th, 2010.
COMMENTS (1)
Comments are moderated and generally will be posted if they are on-topic and not abusive.
For more information, please see our Comments FAQ