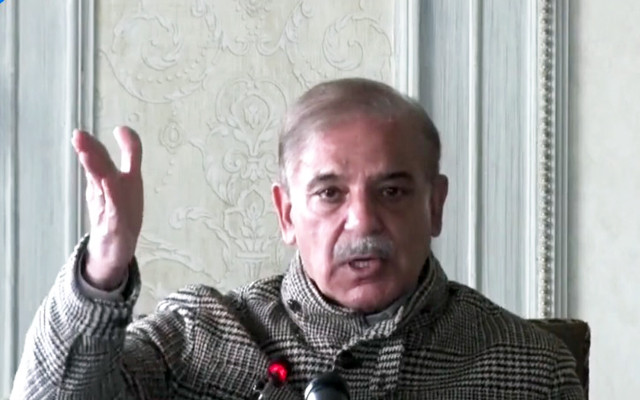 ---
LAHORE:
After days of boiling tensions and escalating violence, which culminated in the raid on Zaman Park on Saturday, Prime Minister Shehbaz Sharif said that if anyone had any doubt, PTI Chairman Imran Khan's "antics" of the last past few days had "laid bare his fascist and militant tendencies".
On his Twitter handle, the premier said, "From using people as human shields to throwing petrol bombs at police to leading 'jathas' to intimidate judiciary, he (Imran) has taken a leaf out of the RSS (Rashtriya Swayamsevak Sangh) book."
Separately, Federal Minister for Information and Broadcasting Marriyum Aurangzeb, while addressing a press conference, said that all state institutions were responsible for the establishment of the writ of the government.
Allowing the accused to come to courts with crowds would give a message that the justice system and law in Pakistan were afraid of terrorists, thugs, goons, threats and abuses, she added.
The minister claimed that Imran was not afraid of playing with national interests, hatching conspiracies and blatantly violating the law and the Constitution of Pakistan.
The federal government also indicated initiating the legal procedure to ban the former ruling party.
Federal Minister for Interior Rana Sanaullah, while addressing a presser at the Pakistan Muslim League-Nawaz's (PML-N) secretariat in Model Town, Lahore, said that enough things have come to light to file a reference against PTI, and PML-N's legal team is now considering. He added that a party can only be banned through the courts.
He said that the Punjab Police acted in a no-go area with the help of other law enforcement agencies. "A so-called political leader had created an atmosphere of fear," he said, taking a jibe at Imran, and added that he was running a movement to avoid jail "as a woman".
He said that when there was "resistance" to the compliance of the court's order, the impression was strengthened that there might be a terrorist organisation there. He added that 65 persons had been arrested from outside of the former prime minister's house, most of whom do not belong to Punjab and their role is "suspicious", while weapons, grenades, and petrol bomb-making equipment were also recovered from there.
Sanaullah claimed that Imran's aim is to spread sedition and anarchy in the country, and he had been "pursuing his agenda for the last 10 years". He added that the PTI chief was "willing to riot" even when he was in the government.
The PML-N leader claimed that Imran reached the court premises with a group of at least 300 to 400 armed men. He added that the police had to use force to remove the people.
He alleged that the former premier uses the notion of threat to life as an excuse.
"They know they are lying because they want to avoid legal action, so they talk about security threats," he added.
Meanwhile, Maryam Nawaz, the chief organiser of PML-N, rejected the PTI chief's claim that his wife Bushra Bibi was alone at his Zaman Park residence in Lahore when Punjab police conducted a 'surprise search operation' there earlier today.
Reacting to his statement, Maryam in a series of tweets, said that if there was only a woman present inside the house then who was "firing bullets and throwing petrol bombs at the police from inside?"
She also shared a purported video – which others claimed to be fake – on her Twitter timeline wherein a man can be seen throwing some explosive from the PTI chief's Lahore residence.
"Didn't I say that this [PTI] is a terrorist group whose leader is housing miscreants and trained terrorists in his house to avoid the law and punishment? Previously, such scenes were seen only in matters related to terrorism. Shameful!," she added.
In another tweet, Maryam said brave politicians do not fear arrest and accountability. "Only thieves, bandits, and terrorists fear arrest and accountability."
Furthermore, Federal Minister for Law Azam Nazeer Tarar, while addressing a presser, said that after the former premier appeared outside the courtroom in the Toshalhana case and his arrest warrant was cancelled, the courts should remove the impression that justice is the same for all since "it is not the same".
He said that the court opened in the evening and gave bail in nine cases.
"It is expected from the supreme judiciary that while giving such facilities, the behaviour of the petitioner must be seen," he added.
COMMENTS
Comments are moderated and generally will be posted if they are on-topic and not abusive.
For more information, please see our Comments FAQ