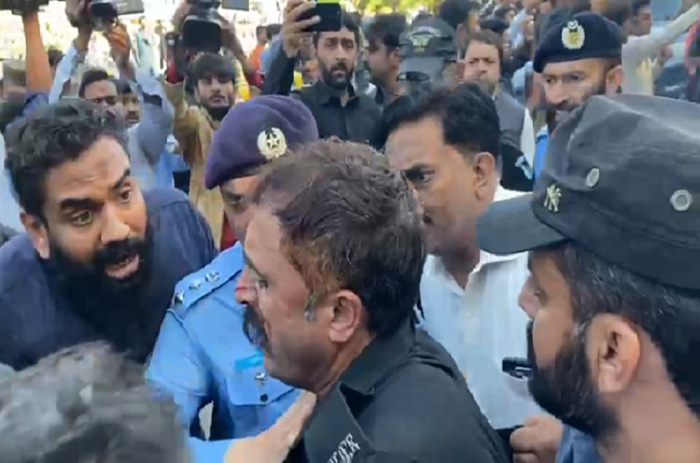 ---
ISLAMABAD:
As many as ten policemen including Senior Superintendent of Police (Operations) Islamabad Malik Jameel Zafar were injured in clashes with PTI workers outside the Judicial Complex in the federal capital on Saturday, according to police spokesperson.
The spokesperson said the police personnel were injured due to stone pelting by PTI protesters and violent commotion by them outside the judicial complex. The injured policemen were shifted to hospitals for treatment, the spokesperson added.
He said that more than 25 motorcycles and vehicles were burnt by the angry protesters while a vehicle of the disposal squad of the police was also vandalised.
The angry protesters also set fire to a police post and trees. Protesters attacked the police with petrol bombs and fired tear gas shells at the police, the spokesperson claimed.
Read more: Imran Khan's warrants canceled after day-long chaos
Demonstrators constantly attacked police personnel from different sides, he said, adding that cases would be registered and legal action to be initiated against them.
He said the Islamabad police have also issued video evidence and pictures in which PTI workers could be seen vandalising vehicles and motorbikes.
Before the arrival of PTI Chairman Imran Khan at Islamabad's Judicial Complex, the area was put on high security to ensure law and order and avoid any untoward situation.
However, the PTI workers pelted stones at law enforcers and authorities inside and outside the premises of the judicial complex, the police statement said.
Also read: Who attacked police if Bushra Bibi was alone at Zaman Park, asks Maryam
"The workers brought stones in their vehicles and even fired teargas on police personnel which was countered by the law enforcers."
The official statement said PTI workers broke the security barrier of the complex for the second time in a row. "Despite requests to the PTI chief to enter the judicial complex premises, Imran Khan created a commotion by sitting in his car," it added.
It is relevant to mention that Islamabad Chief Commissioner Noorul Amin Mengal shifted the hearing from F-8 Court Complex to the Judicial Complex in G-11 as a "one-time dispensation".
Meanwhile, Inspector General of Police Dr Akbar Nasir Khan said the "best possible" security measures were taken at the Judicial Complex ahead of the appearance of PTI chief in the Toshakhana case.
COMMENTS
Comments are moderated and generally will be posted if they are on-topic and not abusive.
For more information, please see our Comments FAQ