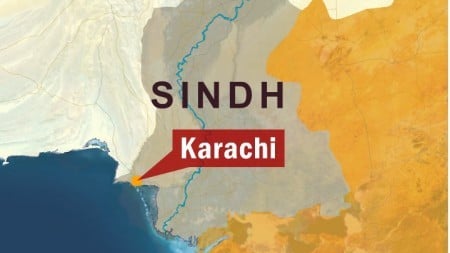 ---
KARACHI: In the city of Karachi, murders take place on a routine basis - often rooted in notions of sectarianism, political affiliation or simply due to ethnicity. Then there are gang-wars, and even 'personal enmities.' Yet some murders still shock the senses - such as one that took place on Saturday.

The owner of a milkshop, a father to four, was shot dead in cold blood - not by a rival sect, or because he was politically affiliated, but instead because he chose to keep a distance from such issues.

Forty-year-old Atta Muhammad was gunned down upon refusal to participate in a political rally and close his business for the purpose. The suspects, allegedly members of Punjabi Pakhtoon Ittehad, wanted him to protest the picking up of a political worker by law-enforcement agencies in Shamsi Society within the jurisdiction of the Alfalah police station.

According to the police, the party organised a rally against the arrest of their associate, Shahid alias Kochi. The party activists are alleged to have opened fire at the milkman when he refused to take part in their protest or shut his shop - choosing instead to stay away from such activities.

Atta Muhammad, son of Kamaluddin, was a resident of the same area and had been running his shop there for a long time. He left behind four children and a widow to grieve his loss, and wonder what he had done wrong.

His body was shifted to Jinnah Postgraduate Medical Centre for legal formalities and later handed over to his family.

The police, meanwhile, have yet to file an FIR - of just another murder in Karachi.

Shia men attacked, one dies

Two Shia men were targeted in the city in separate incidents on Saturday - with one of them dying on the spot after being shot at point blank range outside his house, while the other remains in critical condition at the hospital.

A 21-year-old part-time student, Hammad Hussain, son of Murtaza Ali, was shot dead near Sir Syed College in Rizvia Society within the jurisdiction of Rizvia police station.

According to police officials, Hussain was parking his car in the house when a motorcyclist shot him thrice at point blank range. The assailant managed to escape while Hussain died on the spot.

His body was shifted to Abbasi Shaheed Hospital for an autopsy and later handed over to his family. Hussain was a resident of house number E-2 and used to deal in used cars, said spokesperson for the Jaffaria Alliance Pakistan, Ali Ahmer.

His family did not have any personal enmity with anyone and believe that his murder is part of the sectarian killings.

Rizvia society remained tense following the murder and so did other Shia-dominated localities in the city. Shops closed down in Rizvia society and residents thought it better to remain indoors.

Another member of the Shia sect was severely beaten up, allegedly by activists of Ahle Sunnat Wal Jamaat, in Hasan Colony Gulbahar on Saturday.

He was moved to Abbasi Shaheed Hospital, where he is said to be in critical condition.

According to police, the victim, Adnan Ali Jafferi, was coming out of an imambargah in the area when four men attacked him. They assaulted him and then fled the scene.

Jafferi sustained severe injuries to the head and neck.

The incident took place as people were leaving the imambargah after an allegedly provocative speech was delivered on loud speakers, said the Special Investigation Office at Gulbahar Police Station, Shafiq Tanoli. Police have filed an FIR, 464/2010, against unidentified persons. Later, they arrested four members of the Ahle Sunnat Wal Jamaat after conducting raids in Hasan Colony and New Karachi. Those arrested included Asghar, Ashraf, Qasim and Dilawar. Ahle Sunnat Wal Jamaat spokesperson Qari Ihsan, however, rebuffed allegations that his party was involved. He confirmed that some members of the party have been arrested but said that they had been released later on.

Published in The Express Tribune, June 27th, 2010.
COMMENTS
Comments are moderated and generally will be posted if they are on-topic and not abusive.
For more information, please see our Comments FAQ