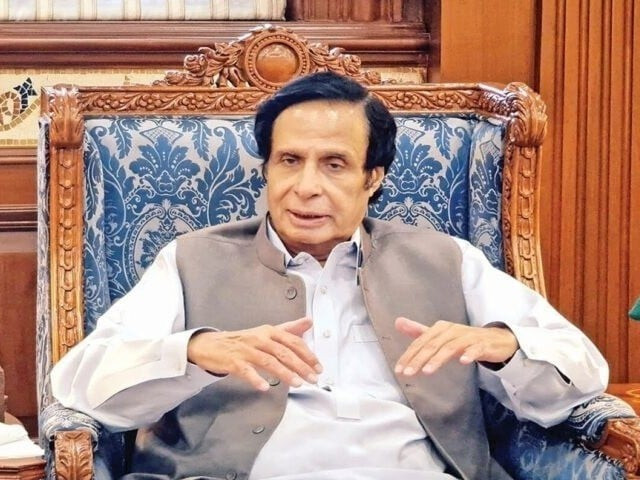 ---
GUJARAT:
Punjab police again laid siege to the house of former Punjab Chief Minister and Pakistan Muslim League-Quaid (PMLQ) leader Chaudhry Parvez Elahi in Gujarat, but have returned without making any arrest.
According to details, a heavy police force under the leadership of District Police Officer (DPO) gathered outside Kunjah House, the residence of Pervez Elahi.
The contingent included police and elite force personnel from more than 10 police stations.
As per sources, there were gatekeepers and housekeepers at his residence while no member of Elahi's family was present, adding that the PML-Q leader was in Lahore while Monis Elahi was out of the country.
Taking to his Twitter, Moonis Elahi shared a video of a heavy contingent of police outside their house. He wrote that the police raided the house without a warrant.
Moonis Elahi added that by raiding our residences they think we will leave Imran Khan, 'think again!'
It is pertinent to mention here that this was the second raid in a week, after his house was besieged 5 days ago.
Expressing his concerns over the abduction of party leaders, Parvez said that the leaders of Punjab are being abducted from Sindh.
He warned Inspector General (IG) Sindh and the administration that such actions will further split the nation and lead to hatred among the provinces.
Asking the Sindh chief minister to take notice of the lawlessness, he said, "I am sure that the CM Sindh will stop the steps that spread anxiety in the provinces."
Punjab Assembly secretary
Besides, the police also raided the official residence of Punjab Assembly Secretary Muhammad Khan Bhatti and they broke the door and entered inside.
As per sources, the police tortured employees, harassed women and children.
The police had detained Mohammad Khan Bhatti's employee Nabil, while they also took a CCTV footage device from the house.
Expressing his concern, Elahi said that there is a fear that Muhammad Khan Bhatti may go missing as our legal advisor Aamir Saeed Raan is still unaccounted for.
Bhatti has been arrested from the Matiari district in Sindh.
The ex-CM's principal secretary was apprehended while he was going to the Sindh High Court for protective bail. Bhatti was taken into custody by Sindh Police under the supervision of Hyderabad's senior superintendent of police.
COMMENTS
Comments are moderated and generally will be posted if they are on-topic and not abusive.
For more information, please see our Comments FAQ