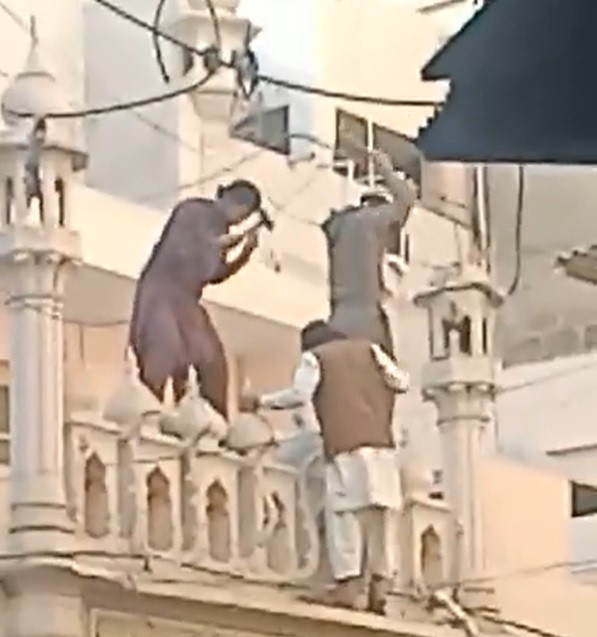 ---
KARACHI:
A place of worship belonging to the Ahmadi community was vandalised by unknown miscreants on Thursday.
The incident took place in the jurisdiction of Preedy police station at around 3:30 pm when unidentified men, chanting slogans against the community, vandalised the minarets of the worship place.
The place of worship for the minority community, Ahmadiyya Hall, was built in the 1950s according to community members.
A video of the incident, circulated widely on social media, showed that the policemen deployed outside the site tried to keep away the miscreants but were unable to control the charged mob. Police have yet to register a case.
"The community is in touch with the police," said SHO Preedy Sajjad Khan. Talking to The Express Tribune, Khan said that the miscreants also attacked the policemen.
"We will register the case, if the community does not come forward," he added.
Speaking to The Express Tribune, the spokesman of the Ahmadi community Amir Mehmood condemned the incident and lamented that the police failed to control the attackers. He maintained that recently, worship places belonging to his community were being targeted across Pakistan.
Mehmood added that another worship place located on Martin Road was vandalized on January 18. "A case was registered but no one was arrested," he added.
Read Man from Ahmadiyya community stabbed to death in Punjab
A senior member of the community said that they felt "insecure after such incidents" and the case regarding both attacks was launched in court.
Last month, a historical worship place of the Ahmadi community situated at Moti Bazar, Wazirabad, which was established back in 1905, was allegedly desecrated by the district administration (police).
A local leader of a right-wing political party, Irfan Iliyas Butt, had filed a complaint before Assistant Commissioner Wazirabad stating that the Ahmadi community had established a room similar in looks to a nearby mosque with minarets on it.
He had sought action under Sections 298-B and 298-C of the Pakistan Penal Code (PPC).
A spokesperson of the Ahmadi community while speaking to The Express Tribune decried the act stating it was "tantamount to discrimination against them as well as against the Supreme Court's judgement".
COMMENTS
Comments are moderated and generally will be posted if they are on-topic and not abusive.
For more information, please see our Comments FAQ